Milla Jovovich Unveils Her Torn Up Neck And Leon Kennedy From Resident Evil: Retribution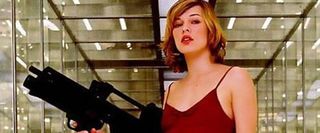 For those of us who have been fans of the Resident Evil video games since way back when the first one was released in 1996, it's been a huge disappointment to see all these film adaptations roll through and not see one single appearance of Leon Kennedy, star of the Resident Evil 2 video game. His RE2 costar Claire Redfield appeared in both the third and fourth films played by Ali Larter, but Kennedy has sadly been passed over. Until now.
We learned last month that Johann Urb, Oded Fehr, and Kevin Durand were added to the cast list, but it is clear now that Urb will don the wavy hair of the Racoon City police officer Leon Kennedy. Of course, where they've taken the series as a film franchise is nowhere near what the video games were trying to achieve so Leon will likely have a different role to play here in Resident Evil: Retribution, the fifth in the RE series.
Production is currently underway on Retribution now that director Paul W.S. Anderson and his wife/star Milla Jovovich are done with promotions for The Three Musketeers. Snatched up by Shock Til You Drop, Jovovich has tweeted a picture of her "attacked by zombies" makeup, but more interestingly she's posted a quick video of Urb and returning Boris Kodjoe, showing off Leon and Luther holding big guns. Check them out below.
Urb seems to being looking like a bit more rugged version of Leon, who came across as a bit of a pretty boy in the games. But nonetheless, knowing that he'll be in this movie may finally bring a little bit of credibility to the franchise that has become a bit of a joke over the years. Retribution will be filming until around Christmas and will hit theaters next September.
Your Daily Blend of Entertainment News
Thank you for signing up to CinemaBlend. You will receive a verification email shortly.
There was a problem. Please refresh the page and try again.