A Minions Toy Helped Save A Little Girl's Life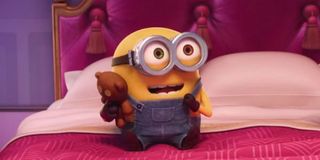 After the chaos that ensued when parents began to 'hear' Minions McDonald's figurines reciting seemingly foul language, it is nice to hear about one toy working in a complete opposite way. Instead of allegedly teaching a child a four-letter word that rhymes with truck, this Minions toy actually helped to save a little girl's life. A 5-year-old suffered only minor injuries after falling from a third-story apartment window, all thanks to a stuffed Minions teddy bear toy.
The young girl was playing in a bedroom with the stuffed teddy bear when she apparently fell backwards out of an open window. According to a statement from the Colorado Springs police (via Reuters) the girl accidentally fell backwards out the window, and as she fell she continued holding onto the Minion teddy bear, which is believed to have cushioned her fall. The child was quickly transported to a local hospital and was treated for a broken arm. It could have been a lot worse had the toy not cushioned her fall, though. Who would have thunk it? A Minions toy doing good?
With the negative attention Minions toys had previously gotten, this comes as good news for the film, who now can try and stay on good graces with parents. But even after the whole McDonald's toy debacle, parents were still rushing their kids to the theaters to catch the latest installment to the Despicable Me franchise. Minions absolutely destroyed the box office its opening weekend, and continues to. Seeing those Twinkie-looking henchmen everywhere, in toys, on t-shirts is certainly helping to keep a money-making franchise booming. Minions nabbed the title of the second biggest weekend of all time for an animated film, holding second to Shrek the Third but beating out Toy Story 3. It is one of only four animated features to even cross the $100 million threshold in its opening weekend, and overseas has been increasingly successful as well.
What started as a few quirky little sidekick henchman, desperately trying to please evil masterminds, became a national phenomenon. Even just the fact that these side-characters have their own movie now is incredible, not to mention toys being made of the Minions toys. This plush Teddy Bear is one of the Minions in the film's favorite toy. Bob, formally known as King Bob is one of the three protagonists in the Minions movie. He is known for carrying around a teddy bear named Tim. Tim is a brown plush bear with yellow buttoned eyes, apparently with special skills (like saving a little girl's life). So if you want to keep your kids safe, he's the little guy to buy (oh and maybe keep your windows closed).
Your Daily Blend of Entertainment News