The Best Family Movies On Netflix Right Now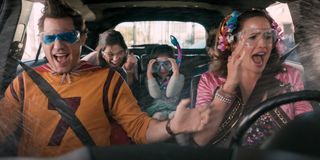 CinemaBlend participates in affiliate programs with various companies. We may earn a commission when you click on or make purchases via links.
There are a ton of great movies on Netflix. From original dramas racking up loads of Academy Award nominations to all those the intense action movies released by the streaming giant, there is something for everyone, no matter their taste in cinema. No one is left out when browsing the streamer's massive library, including kids as there are hundreds (if not more) of family movies on Netflix.
Take it from someone with a house of kids starting their cinematic journey. As my kids grow older, Friday night family movie parties have become the perfect way to kick off the weekend with a Sunday matinee thrown in for good measure. And with theaters either not being open or with limited screenings, there's never been a better time to check out all the great family-friendly films Netflix has to offer.
Below is a breakdown of some of those titles my family has been enjoying as of late as well as others we will be watching in the weeks and months to come…
We Can Be Heroes (2020)
When all of Earth's superheroes (who also happen to be parents) by an alien threat it is up to their children (including those of Sharkboy and Lavagirl) to form a new team of heroes and save their word and their parents before it's too late. My daughter is absolutely obsessed with We Can Be Heroes, and I have honestly forgotten how many times she has demanded I put on "the kid heroes" movie at this point, so it must be a hit with the little ones.
Stream We Can Be Heroes On Netflix (opens in new tab).
Hook (1991)
Say what you will about the quality of Steven Spielberg's Hook, but this 1991 reimagining of the classic Peter Pan story is a major hit with the kids in my house (the actual kids and also that little place in my heart that never grew up). And although the opening act (pretty much everything up until Peter returns to Neverland) can drag for younger children, the movie has enough charm and wonder to keep their attention after that, especially with Robin Williams' take on a boy who forgot his past.
Stream Hook On Netflix. (opens in new tab)
Yes Day (2021)
One of the more notable movies to come out in March 2021, Yes Day stars Jennifer Garner and Édgar Ramirez as two parents who who give their children the ultimate gift: one day where the kids are in charge. With scenes loosely based on Garner's own experience with her kids, especially after 2020's quarantine, the family comedy is filled with good times, humor, and a lot of heart. Just be careful what you ask for when you recommend this at movie night.
Stream Yes Day On Netflix (opens in new tab).
Bigfoot Family (2021)
There are plenty of stories about the elusive Sasquatch out there, but there aren't too many like Bigfoot Family, the 2021 Netflix animated film following the urban legend's tech-savvy son as attempts to not only save his family but also their home from a dastardly CEO looking to serve only his best interests. With a fun and heartfelt story (and superb animation), Bigfoot Family has something for, well, the whole family.
Stream Bigfoot Family On Netflix. (opens in new tab)
Hugo (2011)
A family friendly Martin Scorsese movie? You're kidding, right? Actually, the visionary director's 2011 effort Hugo (based on The Invention of Hugo Cabret) is about a young orphan living inside a Paris train station who sets out on an adventure that will not only help him unlock his destiny but learn about friendship, adventure, and a true appreciation of cinema, the perfect combination for someone wanting to pass along their own love of movies to the next generation.
Stream Hugo On Netflix (opens in new tab).
Rango (2011)
This March marks the 10th anniversary of the release of the Johnny Depp-led animated western Rango and thanks to its animation style, the 2011 comedy about a chameleon being forced to survive the heat, dry conditions, and an evil rattlesnake doesn't look like it's aged a day. I loved this movie in college and love it even more now that I have kids, especially after watching it with them as we all got over COVID-19 at the start of the year.
Stream Rango On Netflix. (opens in new tab)
Good Burger (1997)
Before Kenan Thompson started his journey to become the longest-tenured member of the Saturday Night Live cast, he made a name for himself alongside Kel Mitchel on All That, which ultimately led to the 1997 summer comedy Good Burger. If you are a parent of a certain age, you probably grew up with the "Good Burger" skits and chances are loved the movie when it came out nearly 25 years ago. Now's the perfect time to share the laughs, a dance number in an insane asylum, and a Mondo Burger with the kids.
Stream Good Burger On Netflix. (opens in new tab)
Cloudy With A Chance Of Meatballs (2009)
Growing up, there were few illustrated books that caught my eye more that Cloudy with a Chance of Meatballs with its whimsical story and detailed drawings of food raining down from the heavens. Phil Lord and Christopher Miller's 2009 big-screen adaptation of that story, though much longer than the source material, gives audiences that same feeling and sense of enjoyment. And with the concept of an inventor accidentally creating clouds that rain food, kids of all ages (adults included) will love it.
Stream Cloudy With A Chance Of Meatballs On Netflix (opens in new tab).
The Muppets (2011)
Home to one of the best movie music moments of 2011, The Muppets follows brothers Walter (a puppet voiced by Peter Linz) and Gary (a very real Jason Segel) as they travel to Los Angeles and become involved in a plot to save Muppet Studios from a cartoonish villain played by Chris Cooper. With all the Muppets we have all grown to know and love, music by Fargo's Andrew Bird, and some zany situations, The Muppets is more than just a cash grab.
Stream The Muppets On Netflix (opens in new tab).
The Princess And The Frog (2009)
One of the few Disney movies to be available outside the confines of Disney+, the criminally underrated The Princess and the Frog is one of the best animated movies not only on Netflix but anywhere online. This new spin on the classic fairy tale features amazingly detailed animation, a few of the best Disney songs of the 21st Century, and so much gumbo your kids will start whipping up a roux and talking about gators.
Stream The Princess And The Frog On Netflix (opens in new tab).
Zathura (2005)
Before kickstarting the Marvel Cinematic Universe and introducing the world to the cutest Star Wars character of all time, Jon Favreau gave the world Zathura, the 2005 space-age answer to Jumanji about two brothers whose decision to play a board game ends with an epic journey. Have kids obsessed with board games, space, and all sorts of adventures? Look no further than this fun-filled and at times chaotic adventure of astronomical proportions.
Stream Zathura On Netflix (opens in new tab).
A Babysitter's Guide To Monster Hunting (2020)
Introduced with all other sorts of spooky, yet family friendly Netflix titles in October 2020, A Babysitter's Guide to Monster Hunting follows Kelly Ferguson (Tamara Smart) as she becomes involved with a group of protectors dedicated to fighting off the Boogeyman before he can kidnap any additional children. Maybe a little too spooky for the younger kids out there, this Netflix original is still fun even if you have to watch with your hands partially covering your face.
Stream A Babysitter's Guide To Monster Hunting On Netflix (opens in new tab).
The Croods (2013)
Long before The Croods: A New Age came out and proved it was the perfect sequel, the world first fell in love with the Stone Age family in 2013's The Croods. Led by Ryan Reynolds, Emma Stone, Nicolas Cage, and Catherine Keener, this prehistoric adventure follows the family as they prepare for what could be an end-of-the-world event. With comedic elements for both the adults and children in the room, not to mention amazing animation, put this one in your movie night queue.
Stream The Croods On Netflix. (opens in new tab)
Benji (2018)
There have been various incarnations of the Benji franchise over the years and to the delight of grandmothers around the world, the 2018 Netflix version is just as wholesome and fun as the 1974 original. Set this time in New Orleans, the lovable terrier finds his new home with a young family and the sights and sounds of the Big Easy. When Benji's new kids bite off a little more than they can chew, it's up to the iconic pooch to save the day. And don't worry, Benji is one of the movies in which the dog doesn't die.
Stream Benji On Netflix (opens in new tab).
The Rugrats Movie (1998)
Released in 1998, The Rugrats Movie came out at the peak of the Nicktoon's popularity and helped usher in a new era for Tommy Pickles and crew. When Tommy's world (and sleep schedule) are flipped upside down with the arrival of his baby brother, Dill, things get a little out of hand for the show's group of young adventure seekers. Throw in some monkeys, a Reptar-shaped motorized cart, and some heartwarming moments, and you have yourself a good way to kill a couple hours.
Stream The Rugrats Movie On Netflix (opens in new tab).
Rocko's Modern Life: Static Cling (2019)
Released nearly a quarter-century after the final episode of the cult classic Nicktoon, Rocko's Modern Life: Static Cling made its long-awaited debut on Netflix in August 2019. After nearly 20 years in outer space, Rocko, Heffer Wolfe, Filburt, and Spunky find themselves returning to an O-Town they no longer recognize. Filled with the wonky animation, clever humor, and biting commentary of the original series, this title is a perfect way to show your kids that you were once a weird and misunderstood product of the '90s.
Stream Rocko's Modern: Life Static Cling On Netflix. (opens in new tab)
Little Monsters (1989)
Brian Stevenson (Fred Savage) aims to prove he's not afraid of monsters when he discovers Maurice (Howie Mandel), a not-so-spooky boogeyman in his room. The two form an unbreakable bond and set out for adventures in their respective worlds. A perfect way to introduce your young kids to horror elements that won't cause them to sleep in your bed, Little Monsters is a fun-filled and fun-loving romp of a good time.
Stream Little Monsters On Netflix. (opens in new tab)
The Castle Of Cagliostro (1979)
One of the best animated movies on Netflix, The Castle Of Cagliostro follows the master thief Arsène Lupin III after he robs a casino only to realize the bills are counterfeit. Along with his trusty companion, Daisuke Jigen, the legendary thief sets off for Cagliostro, the presumed source of the phony bills. The directorial debut of famed Japanese filmmaker Hayao Miyazaki, this 1979 animated adventure has flashy-enough visuals to keep the kids entertained with an expertly-paced narrative to hook the adults.
Stream Lupin The 3rd: The Castle Of Cagliostro On Netflix. (opens in new tab)
The Little Prince (2015)
The wonderful and inspiring 2015 animated feature The Little Prince follows a young girl as she is taken on an epic and colorful adventure to discover the heart of the human experience. With various animation styles in use here and a remarkable and captivating story that pays respect to the source material, your children (and perhaps even yourself) will be transfixed by the wonder on the screen.
Stream The Little Prince On Netflix. (opens in new tab)
John Mulaney And The Sack Lunch Bunch (2019)
And then there is John Mulaney and the Sack Lunch Bunch, a 2019 musical variety show that pays homage to children's programs of the '70s and '80s while also touching on modern topics and situations. This hilarious collection of songs about everything from your grandma's new boyfriend to entertaining your parents and their friends and their next party is remarkable in its premise and execution. Watch out because John Mulaney's jokes and songs are straight up contagious here.
Stream John Mulaney And The Sack Lunch Bunch On Netflix. (opens in new tab)
That's a lot, but should all be more than enough to hold your and your kids on family movie night (or family movie week with all of these titles. If you want to know about all the upcoming Netflix movies (not just family movies), don't worry because we have you more than covered.
Philip grew up in Louisiana (not New Orleans) before moving to St. Louis after graduating from Louisiana State University-Shreveport. When he's not writing about movies or television, Philip can be found being chased by his three kids, telling his dogs to stop yelling at the mailman, or yelling about professional wrestling to his wife. If the stars properly align, he will talk about For Love Of The Game being the best baseball movie of all time.
Your Daily Blend of Entertainment News
Thank you for signing up to CinemaBlend. You will receive a verification email shortly.
There was a problem. Please refresh the page and try again.