Mission: Impossible 4 Set To Start In December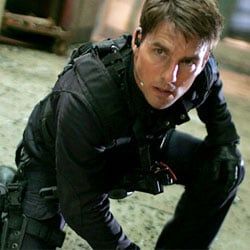 The fourth film in the Mission: Impossible film series, a movie I don't think that many people particularly want to see, but many people will see anyways, has been given an official start date. Principle photography on Mission: Impossible 4 is scheduled to begin on December 6th and wrap around March 7th, 2011, according to Production Weekly.
We don't yet have an official plot synopsis, but it has been confirmed that Tom Cruise will in fact return to reprise his role as Ethan Hunt. This movie probably wouldn't be happening if he wasn't. JJ Abrams will not be back to direct, but will stay on alongside Cruise as a producer through his Bad Robot Productions. Instead, Brad Bird, the incredibly talented animator/director responsible for The Iron Giant, The Incredibles, and Ratatouille, has been signed as director. This will be his live-action directorial debut.
Also confirmed is Jeremy Renner as a character named Brandt, and Paula Patton as a currently unnamed character. Simon Pegg and Ving Rhames will return as well. Mission: Impossible 4 is scheduled to hit theaters on December 16, 2011
Your Daily Blend of Entertainment News
Thank you for signing up to CinemaBlend. You will receive a verification email shortly.
There was a problem. Please refresh the page and try again.