Monsters Trailer Shows A Lot Can Be Done With A Little Amount Of Money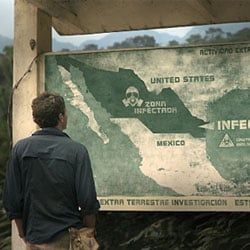 Saw 3D may have steered clear of being in direct competition with Paranormal Activity 2, but now not only will it be going up against Wes Craven's My Soul To Take, but another film called Monsters. After a NASA space probe carrying samples of an alien life form crash landed in Central America, new and threatening creatures began to appear and half of Mexico was quarantined. Six years later, a US journalist and tourist (Scoot McNairy and Whitney Able) agree to team up to try to travel through the infected zone and make it safely back to the states.
Is that a fantastic premise or what? One of the most fascinating things about Monsters is that it's not some big budget alien invasion film. A video posted on the film's website reveals that writer-director Gareth Edwards and his minimal cast and crew trekked through the necessary shooting locations via bus and just jumped out, shot, hopped back in and went to the next spot. The trailer is quite impressive and from what I've heard, the film in its entirety is as well. I'm psyched to see both Saw 3D and My Soul To Take, but it looks like Monsters might end up being my top priority.
Check out the trailer for yourself.
Your Daily Blend of Entertainment News
Staff Writer for CinemaBlend.
Your Daily Blend of Entertainment News
Thank you for signing up to CinemaBlend. You will receive a verification email shortly.
There was a problem. Please refresh the page and try again.