No More Dark Tower For J.J. Abrams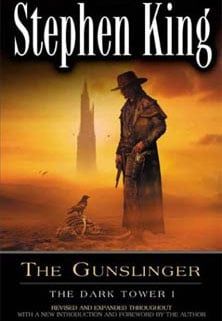 Adapting a novel is a touchy task. One wrong move and you'll spoil a beloved book or run the risk of a film adaption with limited appeal. Back in February 2007, J.J. Abrams was gung-ho about bringing Stephen King's seven-book series Dark Tower to life. As of today, his apprehension about not doing the series justice, makes the plan just a thing of the past.
It seems as though the pressure of bringing such extensive source material to the big screen, forced Abrams and his Lost co-creator Damon Lindelof to push the plan aside, if not hand it off to someone else completely. In October, Lindelof told USA Today, "You'll be hard-pressed to find a huger fan of The Dark Tower than me, but that's probably the reason that I shouldn't be the one to adapt it. After working six years on Lost, the last thing I want to do is spend the next seven years adapting one of my favorite books of all time. I'm such a massive Stephen King fan that I'm terrified of screwing it up. I'd do anything to see those movies written by someone else. My guess is they will get made because they're so incredible. But not by me."
Now, we hear a similar sentiment from Abrams. He explained to MTV, "The Dark Tower thing is tricky. It's such an important piece of writing. The truth is that Damon and I are not looking at that right now."
In May, Lindelof showed signs of uneasiness when expressing concerns about the scrutiny endured by Zack Snyder over his adaption of Watchmen. "Having seen Zack go through what he went through on Watchmen in terms of saying of where can I digress from the material I just get headaches thinking about changing anything." Lindelof seems adamantly opposed to tackling the project, but I wouldn't say the same for Abrams. Perhaps I'm just holding onto the words "right now" as a glimmer of hope, but I don't see this as Abrams completely removing himself from the project. Regardless, don't expect to see Roland's journey through an alternate world to find 'The Dark Tower' on the big screen anytime soon.
Your Daily Blend of Entertainment News
Staff Writer for CinemaBlend.