Morgan Freeman Thinks He's A Dirty Old Man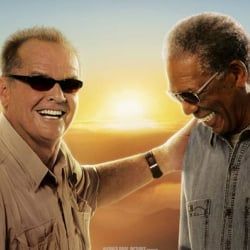 We all love Morgan Freeman, right? He's like our national grandfather, with his weathered face and soothing voice showing up in commercials and movies to tell us how to be better people and get through the rough times. I mean, he's playing Nelson Mandela in Invictus this fall. That's gravitas in a nutshell.
But when Freeman does comedy, the results are typically a little more mixed-- Bruce Almighty turned out OK, but then there was Evan Almighty. I didn't see The Bucket List, and hopefully neither did you. So I'm not quite sure what to think about Freeman signing on to star in a comedy at Warner Bros. with the working title Dirty Old Men (ugh), about an aging playboy who finally settles down and his longtime wingman (Freeman) who tries to break the couple up.
Unsurprisingly, THR is reporting that they want Jack Nicholson to play the playboy, reteaming him with Bucket List co-star Freeman and hopefully bringing in some of the $93 million that movie made. And really, as much as I don't want this movie to be made, it's hard to see it working without Nicholson-- no one else alive can pull of the smarmy playboy-made-good as well as he could. And with Nicholson making far fewer good movies than Freeman these days-- far fewer movies period, really-- it's probably only a matter of time before this becomes a reality.
Your Daily Blend of Entertainment News
Staff Writer at CinemaBlend