Hugh Hefner's Widow Has Spoken Out After His Death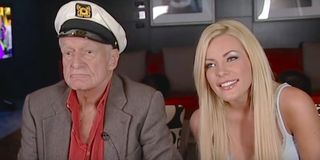 In the days after Hugh Hefner's death, social media saw an outpouring of gratitude and grief from many of the famous Playboy Playmates and celebrities who were closest to the 91-year-old multimillionaire. Now Hefner's 31-year-old third wife, Crystal Harris, has opened up about her bereavement in a statement, saying,
Crystal Harris also told People that she joined others in mourning her husband's death, and she thanked everyone for their condolences. Crystal Harris' words echoed the appreciation many women close to Hugh Hefner said after his death. For example, Pamela Anderson credited him with helping to kickstart her career, as did Jenny McCarthy and Carmen Electra. As for Harris, she was the Playboy Playmate of the Month for December 2009, and she married Hugh Hefner on December 31, 2012. She also participated in a season of The Girls Next Door, and when notorious ladies man Hefner proposed to her, he gushed about her and said the more committed they became, the more they loved each other.
Questions remain concerning what Crystal Harris will do next now that Hugh Hefner is gone. In 2016, Hefner sold the Playboy Mansion to his wealthy neighbor on the condition that he could continue living there with his wife until he died. Now the situation is uncertain because the man who bought the Playboy Mansion previously said he wanted to connect it to his place and create one large estate, but reports say Harris is still living at the house without any problems for now.
Unfortunately, recent reports have also indicated some people on the internet have been out for blood with mean tweets directed at Crystal Harris since Hugh Hefner's death. Most of them center on how much inheritance money she might receive, and some messages suggest she does not care that Hefner died. But if Harris' statement is any indication, the death is shocking for her even though Hefner was 60 years her senior.
Besides, the past year or two has been relatively rough for Crystal Harris. Last year, for example, she announced that she had Lyme disease as well as illnesses caused by toxic mold and a breast implant rupture. Now that Hugh Hefner has passed away, it sounds like she is still figuring out what life looks like on her own. We'll have to stay tuned to see what's next for Harris and whether she might speak out in more detail down the road.
Your Daily Blend of Entertainment News