How Pamela Anderson And Other Playboy Playmates and Stars Reacted To Hugh Hefner's Death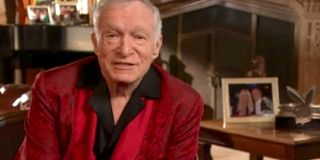 News of Playboy founder Hugh Hefner's death has saddened many people in the entertainment and publishing industries. Now many of the Playmates and celebrities Hefner showcased in his men's lifestyle magazine are paying tribute. For example, Pamela Anderson graced the cover of Playboy a record 14 times, and Hugh Hefner even selected her to write the forward for Playboy's Greatest Covers, a coffee table book. The 50-year-old Baywatch actress and model hopped on Instagram to share an emotional video that showed tears running down her face. Anderson attached a lengthy caption to express her extreme grief, but also thanked Hefner for helping her build a career in show business. Take a look:
Hugh Hefner also had a profound impact on former Playmate Kendra Wilkinson, with whom Hefner shared a polyamorous relationship along with Holly Madison and Bridget Marquardt. Hefner and the three former Playmates filmed six seasons of the reality television show The Girls Next Door together. Wilkinson opened up to reporters in response to Hefner's death and said:
Bridget Marquardt also shared her sadness over the news and offered fond memories with a social media post about Hugh Hefner. Check it out:
As of yet, Holly Madison has not spoken out about Hugh Hefner's death. However, former Playmate Jenny McCarthy has shared kind words. Like Pamela Anderson, McCarthy got her big break in the industry thanks to Playboy. The actress, model, television host, author, screenwriter, and former host of The View tweeted:
Additionally, former Playmate Carmen Electra got a lot of guidance from Hugh Hefner when she was kickstarting her career. The actress and model expressed her sadness and thanks, posting:
Many of the women who graced the cover of Playboy were celebrities. In fact, the very first woman to grace the cover was Marilyn Monroe. So, as you might imagine, many of the famous faces have been joining former Playmates in sharing condolences via social media. For example, Kim Kardashian said she and Paris Hilton had been reminiscing about their experiences at the Playboy Mansion:
In fact, Paris Hilton tweeted a full gallery of pictures she and Hugh Hefner took together over the years:
Dita von Teese also shared a gallery of photos with Hugh Hefner along with a lovely letter to him. In it, she explained the profound impact doing Playboy had on her life:
Then other big entertainment names who happened to do Playboy also chimed in. For example, supermodel Cindy Crawford posted:
Similarly, supermodel Kate Moss gave her two cents, posting:
Many other stars---from Sandra Bernhard to Nancy Sinatra to Azealia Banks---shared sendoff words to Hugh Hefner and showed pictures of their Playboy cover experiences, too. Clearly, Hugh Hefner had a major positive impact on many women in Hollywood, so it is heartening to see many of them speak out with kind words for their friend after his death.
Your Daily Blend of Entertainment News