The Mummy Reboot Is Still Happening And Alex Kurtzman Will Direct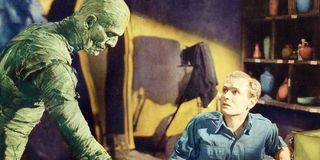 The Mummy is just the latest title to earn a reboot from Hollywood eager to repackage familiar names to us. The latest version of the legend is set to bow May 22nd, 2016, but has been director-less for awhile. Fortunately, the studio is eager to team with a man who mixes blockbuster experience with a totally fresh eye behind the camera. Yep, Universal's calling to the bullpen, and Alex Kurtzman is coming out.
The Wrap reports that screenwriter Alex Kurtzman has been selected to helm the new version of The Mummy for Universal. This is a new vision of the character, distanced completely from the high adventure of the 1999 reboot and its sequels, and more indebted to the horror origins of the character. This new vision would harken back particularly to the movies from the silent and early talkies era that branded the Mummy as one of Universal's classic monsters like the Wolfman and Dracula. What, you thought there wasn't a franchising opportunity in place?
Len Wiseman (Underworld) was originally tasked with guiding this Mummy to the screen. After he dropped out, the inexperienced Andres Muschetti (Mama) was in charge of beginning a brand new Brendan Fraser-free edition of the classic fable. Since Muschetti has also bailed, the production turned inward: Kurtzman and writing partner Roberto Orci were already on-board as producers.
There seems to be some disagreement as to what angle the film will pursue. Originally the talk was centered on bringing the character and the legend back to its roots. But when Muschetti pitched a more horror-specific angle, suddenly Universal opted for a more family-friendly "four-quadrant blockbuster" angle. For those who are unfamiliar, these are terms used by men in suits with too little problems and too much contempt for the people who made them rich. I feel icky just typing them.
Fortunately for Universal, Kurtzman is the king of "four-quadrant blockbuster." With Orci, the scribe has logged credits penning mass-appeal films like Transformers and Star Trek. Kurtzman has only one film to his name as a director, the frankly-not-very-good People Like Us, but had engendered enough goodwill in the industry that Sony had booked him to be a major influence on the Amazing Spider-Man franchise and to write and direct a Venom movie.
Roberto Orci's hiring onto Star Trek 3 combined with his comments that he's not involved in The Amazing Spider-Man 3 (which he and Kurtzman were meant to write) and the latest Mummy news suggest Kurtzman has also exited the Spidey franchise. There's also a good chance that this is the last we've heard about a Venom movie for now, and Sony is likely going to begin the search for a new Amazing Spider-Man 3 writing team, as The Mummy gears up for 2016.
Your Daily Blend of Entertainment News