The Amazing Spider-Man Franchise Doesn't Have A Clear Timeline Going Forward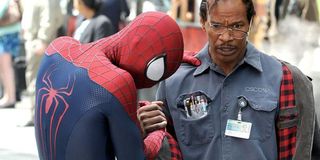 "So what do we do now?" That seems to be the question Sony is asking in the wake of The Amazing Spider-Man 2 . Expectations were high for the film, which ended up being the lowest-grossing in the franchise domestically and worldwide (including the Sam Raimi movies). Now Sony is looking at a release date for a third and fourth film, tentatively set for 2016 and 2018... and apparently reconsidering everything. And even the Spider-Man "braintrust" is wondering what the next step will be.
IGN sat down for an interview with Roberto Orci, one of the members of that group of writers, who revealed that he's very much out of the loop in regards to plans for the next film.
That... does not sound promising. Of course, the reason Roberto Orci hasn't been close with Sony lately is because he's prepping Star Trek 3 . Plus, in April it was announced that Orci and Alex Kurtzman will no longer being working on movies together. Ultimately, his input on a Spidey movie coming in 2016 or 2017 was always going to be limited, even though he and writing partner Alex Kurtzman were hired to write that third film. This raises big questions about The Amazing Spider-Man 3, which Orci claims he is, "not officially involved in," and makes us wonder if it might not make its scheduled June 10, 2016 release date.
So what is Sony thinking? The original rumor had them bumping Amazing Spider-Man 3 to 2017. But there was also talk about Drew Goddard beginning work on The Sinister Six in January 2015, suggesting that film was farther ahead and could potentially take Amazing Spider-Man 3's slot. They're apparently still weighing their options, though it does sound, from Orci's tender words, that the wall-crawler could be taking a hiatus.
I imagine Sony is going to act gingerly moving forward. Despite the movie's disappointing numbers in all other categories, Amazing Spider-Man 2 did pull in a half-a-billion dollars exclusively outside of the states, and earnings like that suggest a heavy demand. The problem is that demand is for a character that, so far, only exists in movies that cost upwards of $200 million - with another $150 million plus needed for marketing and promotion. The problems are financial and creative. If Sony is smart, they'll look upon the character's fifty year history to reconsider how the character has been persevered over the years, and a new and improved Spider-Man will hit screens soon. Hopefully, that's not assuming too much.
Your Daily Blend of Entertainment News
Your Daily Blend of Entertainment News
Thank you for signing up to CinemaBlend. You will receive a verification email shortly.
There was a problem. Please refresh the page and try again.