NYFF Review: Jim Broadbent And Lindsay Duncan Are Outstanding In Le Week-End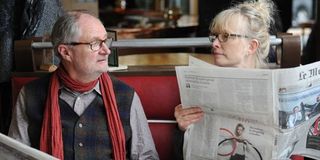 From the works of William Shakespeare, and Jane Austen, to modern rom-coms, it's a well-worn cliché that comedies end in a wedding. As if nothing terribly interesting happens once one is married. Well, the couple at the center of Le Week-end would surely resent this assumption, and with good cause. On their 30th wedding anniversary, English sixty-somethings Nick (Jim Broadbent) and Meg Burrows (Lindsay Duncan, who also pops up in NYFF's About Time) have returned to Paris to relive the joys of their youth. They jaunt about historical landmarks, search for divine culinary experiences, and blithely spend money they don't have. But while he is desperately hoping these adventures will reignite the passion their marriage once had, she is wondering if it's worth the trouble.
As follow-up to Hyde Park on Hudson, director Roger Michell offers audiences a comedy that is bubbly yet bittersweet, peppered with scenes of enviable intimacy and moments of maiming resentment. As the film began, I instantly clung to Broadbent's devotedly doting Nick, whose desire to please his scowling wife is almost pathetic in its vulnerability. She by contrast seems a bully, shrugging off his kisses and taking any opportunity to tear him down, be it by rejection of his sexual advances or by mocking the way he smacks his lips while eating. However, as layer after layer of their history together is revealed, cause is given for her cruelty, forcing the audience to reconsider who to side with.
Over the course of Le Week-end, I switched my allegiance several times, and ultimately felt a bit overwhelmed by wanting the best for this pair but having no idea what that the best might be. The two undeniably share a deep love, but years of disappointments both personally and professionally have worn on their actual like of each other. All their issues come to a head at a posh dinner hosted by Nick's old college friend Morgan (Jeff Goldblum in a scene-stealing role that brings an earnest electricity). Surrounded by chic socialites and affluent academics, this proves the perfect stage for the airing of ugly truths.
Coming out soon after Richard Linklater's return of Celine and Jesse in Before Midnight, it's easy to see Le Week-end as an unofficial sequel, picking up decades down the road with the couple still tangled in a mix of love and hate. And like Before Midnight, Michell's movie is a fascinating comedy in that it's both hysterically funny and heart sickening, bolstered by brave and sparkling performances. Broadbent has an instant affability on screen, which plays well into the character who appears to be well liked but whose deep-harbored insecurities drive people away. Here, he digs into this rich terrain creating a character that is so raw in his need for love and touch that it is at times physically painful to watch.
For her part, Duncan doesn't slouch to play a wife role that could easily have fallen into a ball-buster caricature. Instead, she manages to build a texture and a history into Meg through wordless reactions to Nick's earnestness, be they bored sneers or the occasional flirtatious smile. Then there's Goldblum, who continues his dominance of sleazy intellectual types forged in Jurassic Park and The Life Aquatic with Steve Zissou. His Morgan is everything Nick the flailing professor failed to become, a celebrated and best-selling academic with scads of money and an unabashedly adoring wife.
Set up as a meandering vacation, the narrative does lack a sense of momentum, and at times does drag. However, the sharp script by Hanif Kureishi combined with the elegant performances of its incredible cast eases the bumps of this journey. There's a strange charm in seeing that recklessness is not an attribute solely for the young. And while Nick and Meg's comeuppance for their thoughtlessness feels a bit too easy, Le Week-End is so damn likeable it's hard to care too much about this flaw, especially considering the final scene. There this bizarre trio's chemistry combines in a fitting allusion to French cinema that is heart-lifting and the very definition of wonderful. Despite its rough turns and bumpy exposition, Le Week-End is absolutely a trip worth taking, full of moving moments and well-earned laughs. Check out its trailer below.
Le Week-End makes its US debut at the New York Film Festival on September 29th. A second screening will follow on October 7th. A limited release in the US will begin on February 14th, 2014.
For our complete New York Film Festival coverage, click here.
Your Daily Blend of Entertainment News
Staff writer at CinemaBlend.