National Film Registry Picks Groundhog Day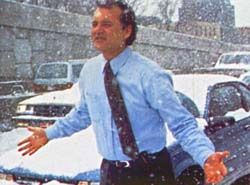 Every year, the National Film Registry picks 25 films to preserve for posterity. It's estimated that 80 - 90% of the movies made before 1920 are lost forever, and nearly 50% of movies made before 1950 are gone. Whether because the filmstock they were shot on has degraded or simply because they've disappeared, they'll never be seen again. The National Film Registry's job is to make sure that doesn't happen to great movies. A place on the list guarantees the movie will be preserved under the National Film Preservation Act.
This year, their list includes some surprises. Blazing Saddles, Fargo and Rocky you might expect them to snatch up, but what about Groundhog Day or Halloween? Unlike Oscar voters, the guys at the National Film Registry pick from a wide variety of different movies. Groundhog Day is genius, and it's nice to see them recognize it.
The oldest movie included in this year's selection is a 1913 film called Traffic in Souls, a sensationalistic expose of white slavery. Other movies from the silent film era added are the 1927 film Flesh and the Devil starring John Gilbert and Greta Garbo as well as the 1914 Mary Pickford movie Tess of the Storm Country.
Below is the full list of 25 films selected for preservation this year by the National Film Registry.
1. Applause (1929)
2. The Big Trail (1930)
3. Blazing Saddles (1974)
4. The Curse of Quon Gwon (1916-17)
5. Daughter of Shanghai (1937)
6. Drums of Winter (1988)
7. Early Abstractions #1-5,7,10 (1939-56)
8. Fargo (1996)
9. Flesh and the Devil (1927)
10. Groundhog Day (1993)
11. Halloween (1978)
12. In the Street (1948/52)
13. The Last Command (1928)
14. Notorious (1946)
15. Red Dust (1932)
16. Reminiscences of a Journey to Lithuania (1971-72)
17. Rocky (1976)
18. sex, lies and videotape (1989)
19. Siege (1940)
20. St. Louis Blues (1929)
21. The T.A.M.I. Show (1964)
22. Tess of the Storm Country (1914)
23. Think of Me First as a Person (1960-75) 24. A Time Out of War (1954)
25. Traffic in Souls (1913)
Your Daily Blend of Entertainment News