Netflix Wants To Change Movies The Way They Changed TV-- But Theater Owners Won't Let Them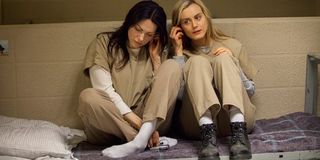 Movie theaters have been fighting off the competition nearly as long as they've existed, taking stands against live theater, television, VHS tapes, cable channels and now the Internet. But they may have found their toughest foe yet in Netflix, the service that was once just a convenient way to get their DVDs to more viewers, and has now become a major force in television-- and soon, if they have their way, original movies too.
Netflix's Chief Content Officer Ted Sarandos said something recently that might seem like common sense to most moviegoers: "Why not premiere movies on Netflix the same day they're opening in theaters?" But the road to getting there, as Variety writes, is a whole lot more complicated. Theater chains are so terrified of what video on-demand might mean for them that they largely refuse to talk about it-- John Fithian, head of the National Association of Theater Owners, wouldn't speak to Variety, and one exhibitor told them simply that shorter windows between theatrical release and home video would "put us out of business."
As it stands most movie theaters have a 90 day window of exclusivity for the vast majority of films, and the rollout of on-demand, DVD and Blu-ray sales and streaming services is staggered based on a wide range of deals-- Apple gets some things first , Wal-Mart other things, and eventually some of it will wind up on Netflix. What many insiders predict Netflix is aiming to do, according to Variety, is shorten that theatrical exclusivity window to 45 or even 30 days.
While exhibitors would inevitably rail against that change, some research says that 45 days is all a movie really needs to make it cash in theaters. According to Box Office Analyst president Doug Stone, 96% of the theatrical box office for wide releases is made in the first 42 days of release-- and that's up from 93.9% just six years ago, which suggests that people are increasingly seeing a movie in the first six weeks or not at all. Just look at one of the year's biggest hits, Man of Steel. In its sixth weekend of release it had grossed $286 million domestically; by its final week in theaters, #14, it had added just another $5 million to that total. And that $5 million could theoretically be made by offering it as a premium VOD rental for $20, far earlier than it's available on Blu-ray.
Whether or not Netflix can manage to premiere other peoples' movies on their service, they will definitely be able to premiere their own-- several sources report that Netflix is actually seeking financing for a slate of mid-budgeted films, attempting to do for independent filmmaking what House of Cards and Orange is the New Black has done for premium television. The massive success of those two original series, along with the fourth season of Arrested Development, has made Netflix a major player in television, with the Emmy nominations to show for it. But the resistance Netflix faced from the television industry is nothing compared to what they'll see from theatrical exhibitors, who have fought back vociferously every time VOD threatened to encroach on their turf. Large chains like AMC and Regal still refuse to show any films that debut simultaneously on VOD, and several chains threatened a boycott when Universal announced plans to release Tower Heist on "premium on demand" three weeks after its theatrical release. Universal eventually backed down, and VOD remains the domain of independent films like Drinking Buddies or Bachelorette that couldn't find a toehold in larger chains.
If theaters want to refuse to exhibit Netflix's original films, they may succeed in stifling the company's attempts to movie into original films. But the change toward premium VOD, and toward making new, giant films available at home while they're still in theaters, seems much more inevitable. A mind-boggling amount of entertainment is currently available to anyone with a Netflix subscription or cable, and there's only going to be more of that content in the future. The negotiations toward getting there, though, are going to be ugly.
Your Daily Blend of Entertainment News
Staff Writer at CinemaBlend