Tower Heist Threatened With Boycott Unless Universal Backs Down On VOD Plan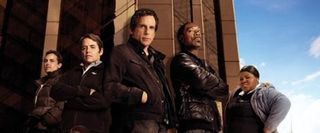 Last week, Universal Studios announced that their upcoming heist comedy Tower Heist, starring Eddie Murphy and Ben Stiller, will be arriving in living rooms sooner than expected. As part of the ongoing attempt to shorten the window between theatrical and VOD release, Universal plans to make Tower Heist available via "premium on demand" a mere three weeks after it bows in theaters this November 4th. While that might be good news for harried parents or other would-be moviegoers who can't make it to the theater, there's one segment of the population who isn't pleased with this news at all: theater owners.
The Los Angeles Times reports that many smaller theater chains such as Galaxy Theatres, Regency Theatres, and the annoyingly named Emagine Theatres are threatening not to run Tower Heist in their establishments unless Universal backs down on this early VOD release. Rafe Cohen, president of Galaxy Theatres, told the LAT that, "We just feel it's a time to draw a line in the sand ... This is virtually a simultaneous release that we don't think will be helpful to anyone." Well, it might be good for some people (*coughcough*Universal*cough*), but it certainly won't be good for already struggling theater owners.
In Universal's defense, the release will not be widespread. Tower Heist will be getting the three-week-later VOD release in Atlanta and Portland, Oregon, which accounts for around 500,000 homes. That's certainly not ideal, but the fraction of that 500,000 that 1) wants to see Tower Heist and 2) will skip it in theaters and instead watch the early VOD release almost certainly won't be enough to sound the death knell for any theaters. Moreover, the release is also a "premium" VOD title, meaning if you want to watch it early, you'll be dropping $60 for the privilege. Yes, sixty bucks. As in 10 more than half a hundred.
I don't know who Universal Pictures thinks is willing to pay sixty freaking dollars to watch a movie in their living room a few months early, but if they're willing to part with the cash, I say let them do it. They're clearly just going to spend it on something foolish either way.
Your Daily Blend of Entertainment News
Thank you for signing up to CinemaBlend. You will receive a verification email shortly.
There was a problem. Please refresh the page and try again.