The Next Scooby-Doo Update Could Make Way For A Hanna-Barbera Cinematic Universe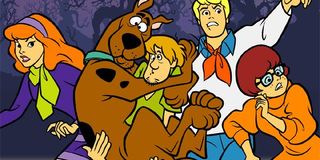 Sometimes news can be both surprising and unsurprising. While no-one really expected a new Scooby-Doo film to be announced, the fact that it has and that Warner Bros. have decided to announce plans for a fully-fledged Hanna Barbera cinematic universe seemed inevitable. Especially since the studio just can't seem to help themselves when it comes to extended franchises.
Entertainment Weekly have confirmed that Warner Bros. are currently developing a Scooby Doo reboot with director Tony Cervone that is bizarrely entitled S.C.O.O.B. This announcement was made at CinemaCon, with Warner Bros. confirming that S.C.O.O.B. will be their "first shot at unlocking the whole Hanna-Barbera Universe."
Obviously this means that Warner Bros. plan on following up S.C.O.O.B. with a number of other films, which will then almost certainly overlap and crossover into each other. This could include The Flintstones, The Jetsons, Wacky Races, and Dastardly And Muttley In Their Flying Machines. Of course, that's only going to happen if S.C.O.O.B. is a success.
Of course, that's only going to happen if S.C.O.O.B. is a success. Rather worryingly for both Warner Bros. and those helping to develop this collection of films, the studio has not had the best success with franchise starting movies.
Both Jupiter Ascending and Pan were intended to kick-start a new series that would be followed by sequels upon sequels upon sequels. Instead, they flopped embarrassingly, losing the studio money and forcing them to make brand new plans for their slate.
We should aslo keep in mind that the studio have had some success with their other franchises. Sure, Batman V Superman: Dawn Of Justice might have been critically savaged upon its release, but it has still made over $785 million at the box office, and they also have the Harry Potter spin-off Fantastic Beasts And Where To Find Them.
Meanwhile, Warner Animation Group achieved huge success with 2014's acclaimed LEGO Movie, which has its own array of sequels and spin-offs for Batman and Ninjago due out over the next few years.
That's not all, too, because Storks is due out in September, while Smallfoot, which revolves around a Yeti that thinks humans are real, is due out next year as well. Clearly Warner Bros. have some big and rather promising plans for their animated slate. Now we'll just have to wait and see what becomes of these films.
Your Daily Blend of Entertainment News
Your Daily Blend of Entertainment News
Thank you for signing up to CinemaBlend. You will receive a verification email shortly.
There was a problem. Please refresh the page and try again.