Nic Cage Will Star In Hilarious Comedy About Osama Bin Laden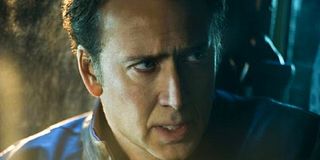 The folks behind Zero Dark Thirty had better hold on tight to their accolades, because soon there's going to be a new entry into the Osama Bin Laden-hunting genre of film; one that will star none other than the incomparable Nicolas Cage. And get this. Because existing material focusing on the world's most notorious terrorist leader was a bit too somber, this one's going to be a comedy!
The crazy-eyed icon Nicolas Cage will team-up with legendary comedy writer and director, Larry Charles for a militaristic romp in the desert called Army of One, according to a studio release. The film will reportedly be based on an article in GQ Magazine by Chris Heath, which depicts the puzzling real life adventures of a Colorado construction worker named Gary Faulkner, who, in a series of quixotic whims, attempts on multiple occasions to sneak into Pakistan and Afghanistan to seek out the elusive fanatical leader on his own.
For Cage, whose body of work as an actor continues to take an evolutionary course through serious drama, to big box-office popcorn flicks, to a current array of eccentric projects, Army of One presents a rather interesting and original turn into the realm of straight-up comedy. While often finding himself the center of numerous box-office disappointments -- most notably in the comic book movie realm with 2011's sequel Ghost Rider: Spirit of Vengeance -- the actor has settled somewhat into a comfortable groove where audiences expect him to be over-the-top and campy and the business never fails to provide him with the platform to exhibit those now-notorious Cage-esque qualities. The man is still a name and draw, and having him attached to a vehicle with a premise as mockingly absurd as a Bin Laden movie is a good read on the potential demographic and can only be a good thing.
With addition of Larry Charles to the parody project, we should see something a bit wittier than the array of disposable mindless "blank movie" films that simply regurgitate pop-culture tropes that end up dated even before the films hit theaters. Charles, whose tenure as a writer on Seinfeld is sacred, will bring directorial experience with Sacha Baron Cohen's series of pseudo-documentary films like Borat, Brüno and The Dictator. Thus, we should definitely expect a film that skirts the border of the fourth wall with a fair amount of skillful dexterity, while maintaining a mandate of oblique satire. Audiences should expect to find themselves the butt of the joke from time to time, which should make it an auspiciously provocative affair.
What do you think about Nic Cage making the jump to straight comedy? Will it translate well? Or will it end up being a situation where the very idea of Cage's presence becomes a joke in itself that gets less funny in its repetition?
Your Daily Blend of Entertainment News
Thank you for signing up to CinemaBlend. You will receive a verification email shortly.
There was a problem. Please refresh the page and try again.