Nick Cannon Is Hoping To Play Richard Pryor In A Biopic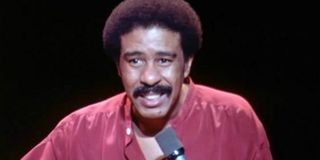 Sometimes you come across a celebrity and you wonder, what does he actually do? That's the question people have asked of AMerica's Got Talent host Nick Cannon. No one's ever debated his talent and potential appeal, but it doesn't seem like it's been deployed properly. Is it possible at Cannon could find his voice playing another famously misappropriated talent?
USA Today has been tracking (opens in new tab) a bunch of bread crumbs Nick Cannon has been leaving all over the internet in regards to playing Richard Pryor in a biopic. Specifically, a recent TMZ Live interview found Cannon dancing around the possibility in a way that coyly acknowledges the rumors while also saying absolutely nothing.
So he's preparing for an audition? Or is he preparing for a role? Does anyone know what's going on here? Is this still the project being backed by The Weinstein Company and producer Forest Whitaker, the one that might put Lee Daniels in the director's chair? Cannon has also been taking to Instagram lately, posting photos like this.
What does this mean for previous Pryor candidates like Marlon Wayans and Michael B. Jordan? Eddie Murphy already bailed on the project years ago, leaving the list of bankable potential Pryors pretty slim. But if you ask all these guys, they've spent years preparing for this opportunity. So when producers finally get off their asses to make this movie, theoretically every possible candidate will be more than prepared.
Of course, that probably has to do with the standup material, or the public side of Richard Pryor. The private Pryor, the one battling demons and drug addiction, is going to be where the meat of the film really is, and can any of these guys pull that off? Can Nick Cannon? Cannon's been making money hand-over-fist as the host of America's Got Talent, as well as chairman of TeenNick at Nickelodeon. The Pryor gig suggests a fire burns in the husband of Mariah Carey to respect Pryor and push his own talent in dark, intense material. But can Cannon, who has had a blessed show business existence, find the darkness inside Pryor? Can anyone?
Your Daily Blend of Entertainment News
Thank you for signing up to CinemaBlend. You will receive a verification email shortly.
There was a problem. Please refresh the page and try again.