Nick Nolte Playing The Police Chief In Ruben Fleischer's Gangster Squad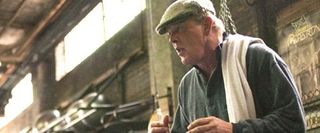 Nick Nolte, who is about to start earning serious Oscar buzz-- really!-- with his supporting role in the upcoming Warrior, has signed on for another role that will likely get him only the best kind of attention. According to Deadline he's signed on for a role in Gangster Squad, the upcoming drama from 30 Minutes or Less and Zombieland director Ruben Fleischer that's already got a seriously heavy duty cast attached. Nolte will play the head of the Los Angeles Police Department in the 1940s, as he sets up the titular squad that aims to take down organized crime. Sean Penn will play fearsome gangster Mickey Cohen, with Ryan Gosling and Josh Brolin both playing cops assigned to his case. Anthony Mackie, Emma Stone and The Killing's Mireille Enos are rounding out the cast.
WIth a cast this large pretty much every role is probably a supporting one, but that sounds like a good spot for Nolte, whose days as a leading man pretty much ended in the late 90s, and who has spent a surprisingly long time building himself back up after this mugshot to become a reliable and welcome supporting presence. He gives it everything he has in Warrior, playing a reformed alcoholic trying desperately to reconnect with the sons (Tom Hardy and Joel Edgerton) whom he alienated with his drinking when they were young. It's the kind of performance that snaps you back to being aware of an actor's potential, and I'd bet pretty much anything that Ruben Fleischer saw it and decided to cast Nolte in Gangster Squad as a result.
You'll be hearing a lot in the coming months about Nolte's career resurgence, and while Warrior is really all the proof he needs, this Gangster Squad only makes a stronger case. It really is good to have the guy back.
Your Daily Blend of Entertainment News
Staff Writer at CinemaBlend