Nicole Kidman Replacing Rachel Weisz In Railway Man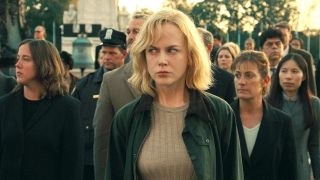 (Image credit: Warner Bros.)
With mere weeks until production begins on Lionsgate's World War II drama The Railway Man, its leading lady Rachel Weisz has been forced to drop out due to an unexpected scheduling conflict. Turns out, both The Bourne Legacy and Oz: The Great and Powerful now require Weisz for additional shoot days in April, which sent producers in search of a last minute replacement. Ultimately they've swapped one gorgeous Oscar-winner for another. Variety reports that Nicole Kidman, who has recently wrapped on Chan-wook Park's English-language debut Stoker, has signed on to the film, and will co-star opposite Colin Firth.
Based on WWII veteran Eric Lomax's harrowing memoir, The Railway Man is told in two parts. The first section reveals his time as a soldier, when he was captured by Japanese soldiers and made a prisoner of war. Over the course of five years, he was brutally tortured and forced to work construction on the Burma Railway, also known as the Death Railway. The other half of the film will focus on Lomax's struggle years later to overcome the physical and emotional scars of this ordeal, with the help of his wife, Patti Wallace, who ultimately urges him to reconnect and confront his captor. Jeremy Irvine (War Horse) will play the younger Lomax, while Firth will play the elder, and Kidman will portray Wallace.
All in all, it sounds like a solid cast. I used to be among Kidman's detractors, unimpressed by her suspiciously stoic performance in a strange string of films. However, then came 2010's Rabbit Hole, where she portrayed a mother trying desperately to cope in the aftermath of her toddler's unexpected death. It was a role that required just the right balance of hysterics and finesse and Kidman absolutely nailed it, earning her third Oscar nomination. So, I'm eager to see her share the screen with Firth, who seems to be shooting for a third nod of his own.
The Railway Man will go into production in Scotland next month, before moving to Australia's Gold Coast for the WWII scenes. Jonathan Teplitzky (Better Than Sex) directs.
Your Daily Blend of Entertainment News
Staff writer at CinemaBlend.