Nina Dobrev Will Play A New Character In Perks Of Being A Wallflower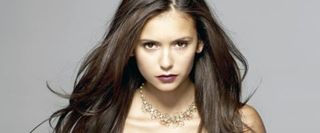 I still find it hard to believe that The Perks of Being A Wallflower is being turned into a movie, given that it's a hugely personal, fairly dark high school story told entirely through letters written by the main character to a person we never meet. And yet, where Summit Entertainment sees a way to mine more money from teen audiences, they'll make it possible, and they've got Logan Lerman lined up to play the titular wallflower Charlie, with Emma Watson as the older object of his affection, Sam and Paul Rudd on board in a role that I"m assuming is Charlie's caring English teacher, Bill.
Now Nina Dobrev, a star from The Vampire Diaries, has been cast as "Candace" according to Deadline, and the only problem is that I can't for the life of me figure out where the character fits into the book. Deadline describes the part as a "much sought-after lead role," but given that I don't remember the character from reading the book and can't find any mention of her online, I have to assume the character has been invented for the screenplay. Given that the film is being both adapted and directed by the book's author Stephen Chbosky the character must have been added for a reason, but I do worry they're inflating the cast at the expense of the book's intimate tone.
Production starts in May in Pittsburgh, a city that's cheap for film production and also happens to be where the novel is set. It's hard to imagine this being quite the tween sensation that Twilight is, at least if they stay true to the thorny and honest book, but Summit now knows teenagers, and this looks to be their next effort to court them.
Your Daily Blend of Entertainment News
Staff Writer at CinemaBlend