Oblivion's Big Numbers Abroad Earn Tom Cruise Another Sci-Fi Adventure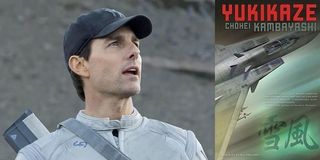 Tom Cruise's latest action-adventure feature Oblivion opens in the U.S. this Friday. However, this Universal Pictures' production is already scoring solid box office totals overseas, to the tune of $61 million. So, Warner Bros. is looking to capitalize on the leading man's gift for science fiction with an adaptation of Chohei Kambayashi's planetary war book series Yukikaze.
Deadline reports Warner Bros has acquired the entirety of the Japanese sci-fi novel series with plans to produce and distribute. In a newly announced deal, Cruise has attached himself to Yakikaze, which is currently in development with 3 Arts' Erwin Stoff and Tom Lassally, who produced the upcoming Cruise-Warner Bros. sci-fi action flick All You Need Is Kill.So basically, with confidence bolstered by how well Universal's Oblivion is doing, Warner Bros. is planning to double-down on their Cruise/sci-fi slate.
Set in the early 21st century, Yukikaze centers on a battle for the future of Earth. Thirty years before, a hyper-dimensional passageway unexpectedly appeared over Antarctica, and through it came an extraterrestrial fighter force call the JAM. This first attempt at alien invasion of Earth was beaten back, with the JAM knocked back to a planet called Fairy. But now Earth's second wave aims to traverse the portal to take the fight to Fairy.
If Cruise is meant to play the book's hero—which seems likely—he'd be playing Second Lieutenant Rei Fukai, who is charged with flying over Fairy and gathering information. In this danger zone about an enemy planet, his only companion is his sentient fighter plane, Yukikaze. It'll be interesting to see who Warner Bros. lines up to write, direct, and co-star in this project. But already I'm pulling for a Top Gun reunion. Anthony Edwards for the voice of Yukikaze!
This poll is no longer available.
Staff writer at CinemaBlend.
Your Daily Blend of Entertainment News
Thank you for signing up to CinemaBlend. You will receive a verification email shortly.
There was a problem. Please refresh the page and try again.