Olivia Wilde Shooting Cowboys & Aliens Nude Scenes: Maybe It Isn't Family Friendly?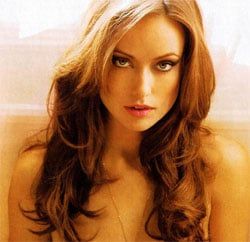 From what we know of Cowboys & Aliens, it hasn't really seemed like a nude scene kind of movie. The concept sounds ideally suited to being a light PG-13 family film, the kind of movie that ends up on kids lunchboxes, a Jurassic Park for the modern era. But in an interview with the Toronto Sun stars Adam Beach and Olivia Wilde reveal they just finished shooting Olivia sans clothes.
Olivia explains, "Last night, we did a scene where I'm naked in front of a group of couple hundred Apache. Pretty amazing, pretty interesting." It sounds as though she really was naked though it's unclear whether her nipples will actually make a showing in the film. Adam Beach, who plays a henchman in the movie and comes off sounding like a huge pervert, says, "We just finished shooting Olivia Wilde naked in front of a bonfire in front of 500 Apache warriors… That was beautiful. You won't get to see what I saw, but you'll get a glimpse."
So Adam Beach is kind of a creepy dude but "a glimpse" could mean they'll fit it into the confines of a PG-13 rating. If they shot her in front of a bonfire, it could be that we'll just get some sort of sexy, naked Olivia Wilde outline. Or maybe Jon Favreau will surprise us and turn in a hard-R Cowboys & Aliens in which Olivia Wilde spends the entire film naked and Harrison Ford takes a page from MacGruber and defeats his enemies by rippin' throats.
Update: Olivia hopped on Twitter to explain the scene in more detail. She says, "don't want to disappoint, but my "nude" scene in Cowboys & Aliens is very PG13. I was in a bikini but we'll make it look as naked as we can. it's all about what you don't see (wink face emoticon)" It sounds like her lascivious costar Adam Beach was simply overreacting.
For more on Cowboys & Aliens visit our preview page.
Your Daily Blend of Entertainment News