Oscar Eye: 5 Potential Surprises We'll Be Talking About Until Oscar Night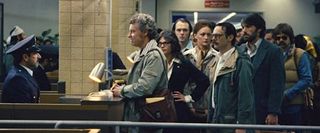 With almost a week gone by since the 2013 Oscar nominations were announced, we've had some time to process them-- but more likely, we've been distracted by the glitzy Critics Choice and Golden Globe awards and focused on those instead. Awards season is a chaotic time, and it's not even close to over, with five weeks to go until the Oscars and the SAG, DGA, Writers Guild and Indie Spirit Awards still to come.
This is the point of the awards season where writers and pundits can start getting restless. All the nominees are known, so we're basically shuffling around the same 5 possibilities to try and figure out who will win. Already some crazy theories are surfacing about this or that category might get shaken up by a surprise, and it's pretty difficult to know what's just wild speculation and a plausible theory. I'm not saying I know either, but I can at least help you keep track of what you'll be hearing, and give you some sense of the conversations we can expect over the long five weeks until Oscar night.
To see the full list of Oscar nominees, click here.
1) The Argo surge. This narrative has been especially strong in the last few days, as Ben Affleck has won Best Director and Best Picture at both the Critics Choice Awards and the Golden Globes, making the Academy's exclusion of him in the Best Director category all the more glaring. Plenty of smart people are arguing that all this attention to Ben Affleck's snub could easily remind people of how much they like Argo, and give it a significant leg up in the Best Picture race. At the same time, final ballots aren't sent to voters until later this month, and plenty of things could happen between now and then to make people forget about all this Affleck buzz. Such as…
2) The Silver Linings Playbook surge. This is the conversation that began pretty much the moment the nominations were announced last Thursday, with David O. Russell sneaking into the Best Director category and the movie's actors scoring nominations in all four acting categories-- the first film to do that since 1981's Reds. Immediately comparisons were drawn between Silver Linings and Shakespeare in Love, another frothy Harvey Weinstein-back film with a star-making lead actress performance that managed to steal Best Picture away from an epic, beloved Steven Spielberg movie about a famous historical event. Is Lincoln about to get the Saving Private Ryan treatment? A lot of people who want this race to stay interesting think it could happen.
3) The Best Actress logjam. Conventional wisdom has it that the two strongest contenders for Best Actress are Zero Dark Thirty's Jessica Chastain and Silver Linings Playbook's Jennifer Lawrence, and all the newfound strength for Silver Linings (see #2) gives Lawrence the edge. But it's still a pretty close battle between two ingenues, and when that happens you can get vote-splitting, and a surprise win from an outside party. Could that outsider be Amour's Emmanuelle Riva, who's made history as the category's oldest nominee? It might be wishful thinking, but I could kind of see it happening.
4) The Best Supporting Actor free-for-all. It's the first acting category to ever be made up entirely of previous winners, which means pretty much nobody has a "he's due" edge in this group. I still think Tommy Lee Jones is the strongest competitor, both because of how well-liked Lincoln is and how crucial his part it, but I can honestly imagine a campaign for anyone. Alan Arkin is another well-liked veteran in a movie almost as liked as Lincoln, Argo; Philip Seymour Hoffman is hugely respected and is actually the lead in The Master; Robert DeNiro is a legend who's part of red-hot Silver Linings Playbook; and Christoph Waltz is basically the lead of Django Unchained, which is a huge hit. With five weeks to go before the Oscars, any one of them could suddenly become a frontrunner.
5) A "make-up" win for Django or Skyfall or Amour or… anything, really. No matter how much wishful thinking you do about Best Picture, there's really only three or four films with a shot of winning the prize. And based on the nine nominees and the nice spread of picks throughout the categories, it's clear the Academy has affection for a huge number of films… and may want to reward some of the ones that don't have a shot at the top category. Could that give Christoph Waltz the edge so they can reward Django? Could it give Amour a screenplay win? There are a lot of options, but it's hard to know just yet how much of that talk is just wishful thinking for a more interesting race.
Staff Writer at CinemaBlend
Your Daily Blend of Entertainment News
Thank you for signing up to CinemaBlend. You will receive a verification email shortly.
There was a problem. Please refresh the page and try again.