Oscar Eye: Predicting The Screenplay Winners, And Considering Nine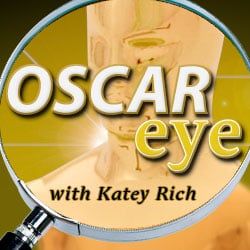 I've got screenplays on the brain this week. It's partly thanks to the point of the Oscar race we're in-- there's still nothing to talk about but Precious, even though critics are starting to see Nine and The Lovely Bones can't be too far away either. But I also had a double hit of screenplay chatter last night, between a soiree in honor of (500) Days of Summer at the Museum of Modern Art and a listen to the Creative Screenwriting podcast episode that featured Up writers and directors Pete Docter and Bob Peterson. The (500) Days event had no specific agenda in mind, much less a specific screenwriting bent, but it's clear to most that the movie's best shot at Oscar is in the original screenplay category. And as the Up guys discussed their process for getting the screenplay as sharp as it was, I was keenly reminded of how wondrous that movie was, and how much meticulous, clever writing made it that way.
So with two movies on my mind that are almost guaranteed nominees in the Best Original Screenplay category, why not tackle everything else that might join them there? As would make sense in an era when every other movie that comes out is a remake of something else, the Best Adapted category is looking far more crowded than the Best Original, but there's good stuff to be found in both places. Below a rundown of the likeliest 6 or 7 in each category, and where they seem to stand.
Best Original Screenplay
500 Days of Summer, Scott Neustadter & Michael H. Weber. Not only is it one of the most inventive screenplays in years, but the movie itself was critical success too, and it has the full weight of Fox Searchlight's publicity department behind it. There's room most years in this category for a smart-aleck that will never get nominated for Best Picture, and that seems to be this spot.
Up, Pete Docter & Bob Peterson. Both are previous nominees in this category for other Pixar films, and with Up actually in the running for Best Picture now, this might be the studio's first chance to win. Pixar movies are always elegantly scripted and the Academy has recognized it; is the feat of making a movie about an old man and an anthropomorphized house enough to finally put it over the top?
The Hurt Locker, Mark Boal. Even though much of the film's strength comes from Kathryn Bigelow's taut direction, Boal's familiarity with ground troops in Iraq (he's a journalist as well) gives the movie its urgency and sense of place. Jeremy Renner's bad boy character never would have worked if every word out of his mouth didn't seem so authentic. With Hurt Locker a likely Best Picture nominee, the screenplay should have plenty of room to get in too.
Inglourious Basterds, Quentin Tarantino. It's messy, sure, and probably could have withstood a few edits here and there, but the wordy and complicated Inglourious Basterds script gave birth to Hans Landa and Archie Hicox and even Aldo Raine, and that's an accomplishment that can't be denied. Plus all the languages! All the communication gaps based on words! It's still unclear how much the Academy will embrace Tarantino's film, so the script is vulnerable, but if the movie takes off this definitely will too.
A Serious Man, Joel & Ethan Coen. The Coens have a pair of screenplay Oscars when they probably deserve eight, but with A Serious Man finding such critical success and, again, a weak field, they seem likely to get a nomination even with such a dark, almost snarky film. I'm still not confident it'll make it into the Best Picture lineup, but with that category so heavy on adapted stuff, there seems to be room for it here.
Bright Star, Jane Campion. No idea why the momentum on this film has fallen apart entirely, but if a revamped push for nominations puts it back into the spotlight, Campion's script-- heavy on the Romantic poetry and florid speeches-- should be able to find a spot here. If the campaign for this one truly is dead, though-- which is hard to imagine-- it seems much more likely that Bright Star would be nominated in other categories.
Avatar, James Cameron. I number among the Cameron faithful, convinced that he has the possibility for greatness hidden behind all the blue cat people, even though I've seen as little of Avatar as everyone else. Cameron is as famous for his tin-eared dialogue as he is for his stellar story structure, so it could go either way here. Even Titanic couldn't get a screenplay nomination.
It's Complicated, Nancy Meyers. It's perfectly likely that this lightweight comedy will turn out to be just that, and everyone involved will be lucky to get Golden Globe nods. But there aren't that many original screenplays this year, and you never know...
In the Loop, Armando Iannucci. This is entirely my own wishful thinking, even though the screenplay category is the best shot this hilarious British farce has at a nomination. I'm mostly resigned to having it be one of those un-Oscared gems. Mostly.
Best Adapted Screenplay
Precious; Based on the Novel 'Push' By Sapphire, Geoffrey Fletcher. I swear I'm not being glib when I say it's in the title. Even if Precious weren't already a Best Picture frontunner, its title is an ever-present reminder of the difficult material that inspired it, and how much work it took to turn a bleak story of poverty into the must-see indie of the fall. No question about this one.
An Education, Nick Hornby, based on the memoir by Lynn Barber. Another story about a young woman coming into her own, this one a lot more fun and boasting a lot more Nick Hornby cleverness. He wins major points for channeling the voice of a teenage girl and also juggling an assortment of side characters who, in just a few snippets of scenes, make their mark. Hornby is a beloved novelist and the Academy will likely be thrilled to recognize him here too.
The Lovely Bones, Peter Jackson, Fran Walsh & Philippa Boyens, based on the novel by Alice Sebold. This is all presuming the movie is any good, of course, which becomes less likely the longer they wait to screen it for anyone (it opens in limited release December 11). But the novel is so exquisite and well-loved that if they translate it well, it should see a nomination.
Up in the Air, Jason Reitman & Sheldon Turner. Both of Reitman's previous films have been marked by clever writing, and this seems likely to be Reitman's first chance at getting recognized for it. If it's the Best Picture contender it seems to be, a screenplay nod shouldn't be far behind.
Invictus, Anthony Peckham, based on the book by John Carlin. Ditto, except it seems much more likely that Clint Eastwood's film will be good, both because it's much less of a gamble and Eastwood is much more consistent. Of course, it might be one of those movies that's talked about entirely for its performances, which could leave the screenplay out cold. But Eastwood's movies that hit with the Academy have a good track record of bringing the screenwriters along with them.
A Single Man, Tom Ford, based on the novel by Christopher Isherwood. The movie is largely being celebrated for its lush visuals, Colin Firth's lead performance and the fact that it's capably directed by a fashion designer, but who knows what might happen if it really strikes a chord. Given how hard Mad Men has made it to have a fresh take on the early 60s, if the movie is good the screenplay deserves at least some of the credit.
Julie & Julia, Nora Ephron, based on the memoirs by Julie Powell and Julia Child. Don't laugh-- I'm more and more starting to think this is the likeliest contender for that 10th Best Picture slot, and the screenplay's deft weaving of two separate stories is pretty neat, even if Julie's story is far less interesting than Julia's. If Sleepless In Seattle got a nomination, this is totally possible.
As for other Oscar news this week, there's not much to speak of-- I saw The Last Station and Everybody's Fine, and have altered their positions in their categories accordingly. The scattered reviews of Nine that are about to start trickling out will be the big news soon enough, and the early word indicates that it's not a flop (whew!) and that the performances work, so a few adjustments have been made below, along with a few other instances where I'm just changing my mind. For now, though, it's the same old quiet time. On to the charts!
Because Star Trek in the 10th slot was more of a lark than anything, I'm going to replace it with Julie & Julia, which seems like the more likely "fluff" option. I'm also taking out The Lovely Bones, based on a hunch more than anything-- perfectly ready to put it back in as soon as anyone has seen it. I've replaced it with An Education which could just as easily be A Serious Man or A Single Man-- I can't decide.
Precious:Based on the Novel 'Push' By Sapphire
Up Up in the Air
Avatar
An Education
The Lovely Bones
The Hurt Locker
Inglourious Basterds
Invictus
Nine
A Serious Man
Bright Star
Julie & Julia
A Single Man
The Road
500 Days of Summer
Amelia
Brothers
Crazy Heart
District 9
The Hangover
The Informant!
Public Enemies
Star Trek
Where the Wild Things Are
The more I think about Nine and its visual style, the more I think Rob Marshall could get in here over Lee Daniels or maybe, sadly, James Cameron. But because I don't have any reviews to take to the bank, I don't want to change anything just yet.
NONE
Kathryn Bigelow, The Hurt Locker
James Cameron, Avatar
Lee Daniels, Precious
Clint Eastwood, Invictus
Peter Jackson, The Lovely Bones
Rob Marshall, Nine
Jason Reitman, Up in the Air
Lone Scherfig, An Education
Jane Campion, Bright Star
Joel and Ethan Coen, A Serious Man
Tom Ford, A Single Man
Quentin Tarantino, Inglourious Basterds
John Hillcoat, The Road
Michael Mann, Public Enemies
Oren Moverman, The Messenger
Steven Soderbergh, The Informant!
Jim Sheridan, Brothers
The race is suddenly looking very, very crowded, and instead of my surefire bets I had earlier in the season, I really only see two guarantees now-- Firth and Bridges. Granted, I haven't seen their movies, but they're both Hollywood standouts who, unlike Clooney and Freeman, don't have Oscars yet. Freeman could ratchet up to the top once we see Invictus, and I still think he and Clooney will be nominated, but the momentum no longer seems to be in their favor.
I also finally saw The Last Station, and McAvoy is very, very good-- enough that I'm putting him in over Viggo Mortenson, who won't have the same momentum. McAvoy, long overdue for a nomination, may finally have his chance.
Jeff Bridges, Crazy Heart
Colin Firth, A Single Man
George Clooney, Up in the Air
Matt Damon, The Informant!
Daniel Day-Lewis, Nine
Morgan Freeman, Invictus
James McAvoy, The Last Station
Viggo Mortensen, The Road
Jeremy Renner, The Hurt Locker
Michael Stuhlbarg, A Serious Man
Sharlto Copley, District 9
Robert De Niro, Everybody's Fine
Johnny Depp, Public Enemies
Hal Holbrook, That Evening Sun
Sam Rockwell, Moon
Ben Foster, The Messenger
Jake Gyllenhaal, Brothers
Tobey Maguire, Brothers
Patton Oswalt, Big Fan
Mark Wahlberg, The Lovely Bones
Ben Whishaw, Bright Star
Unofficial word from Nine (because it's all unofficial at this point) is that Cotillard's performance, while slight for Best Actress, is excellent. She's now my fifth slot choice, though depending on how some others shake out, could easily be replaced.
Carey Mulligan, An Education
Meryl Streep, Julie & Julia
Gabourey Sidibe, Precious
Marion Cotillard, Nine
Abbie Cornish, Bright Star
Maggie Gyllenhaal, Crazy Heart
Helen Mirren, The Last Station
Saiorsie Ronan, The Lovely Bones
Michelle Pfeiffer, Cheri
Michelle Monaghan, Trucker
Hilary Swank, Amelia
Audrey Tautou, Coco Before Chanel
Charlize Theron, The Burning Plain
Plummer's performance in The Last Station is gigantic-- really a lead one-- so he seems very safe here now. Really, this whole category does-- the one variable I can imagine is Lovely Bones tanking hard and Tucci crashing with it, though even then he'll have Julie & Julia to fall back on.
Alfred Molina, An Education
Christoph Waltz, Inglourious Basterds
Matt Damon, Invictus
Christopher Plummer, The Last Station
Peter Sarsgaard, An Education
Stanley Tucci, The Lovely Bones
Richard Kind, A Serious Man
Woody Harrelson, The Messenger
Anthony Mackie, The Hurt Locker
Paul Schneider, Bright Star
Stanley Tucci, Julie & Julia
Alec Baldwin, It's Complicated
Jude Law, Sherlock Holmes
Kodi Smit-McPhee, The Road
All this Nine has be reconsidering the likelihood that one of the ladies will break through here, though it's hard to know which one (if Cotillard went supporting she'd seem the logical choice, but crazy campaigns say otherwise). I'm going with Cruz for the showy role, but given that she won just last year, someone else might pop up to take the spot. Dench? Kate Hudson? God knows. I've knocked out Sarandon not to continue Lovely Bones pessimism, but dude, no one has seen it.
Mo'Nique, Precious
Penelope Cruz, Nine
Judi Dench, Nine
Vera Farmiga, Up in the Air
Anna Kendrick, Up in the Air
Julianne Moore, A Single Man
Susan Sarandon, The Lovely Bones
Mariah Carey, Precious
Kate Hudson, Nine
Melanie Laurent, Inglourious Basterds
Sophia Loren, Nine Samantha Morton, The Messenger
Rachel Weisz, The Lovely Bones
Nicole Kidman, Nine
Diane Kruger, Inglourious Basterds
Paula Patton, Precious
Imelda Staunton, Taking Woodstock
Emma Thompson, An Education
Staff Writer at CinemaBlend
Your Daily Blend of Entertainment News
Thank you for signing up to CinemaBlend. You will receive a verification email shortly.
There was a problem. Please refresh the page and try again.