Oscar Eye: Predicting The Winners While We Wait On Avatar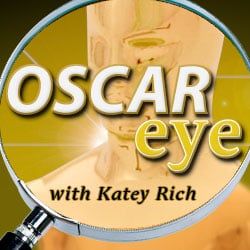 This week is the week that it all happens. As I write this critics all over the country are getting their first look at Avatar, and the earliest, vaguest word out of the London premiere is that it's good-- maybe even really good, maybe even great. I'm going ahead and posting this much-delayed Oscar column before we know for sure what any of this means, but the spot I have had reserved for Avatar in the Best Picture top 10 is not going anywhere.
I'm going to go straight into the chart updates both because I"m short on time-- have to run out for an It's Complicated screening soon-- and because it's pretty much all about the charts right now. Nearly everything is out, and while a few key movies remain under embargo-- Sherlock Holmes, come out soon!-- the roster that this year's Oscars will have to choose from is pretty much set. Not that that means anyone knows what will happen-- this year's awards, including Best Picture, are as uncertain as they've been in years. But the key players are mostly out in plain sight.
As far as momentum goes, there's been a perceptible shift toward Up in the Air in the last week or so, starting with the National Board of Review naming it their Best Picture and the Washington D.C. Film Critics following suit, and continuing as a series of critics include it on their top ten lists-- Peter Travers, whose tastes frequently align with the Academy's, put it at #2. With the stranglehold that Precious held on Oscar buzz finally fading, it's time for Up in the Air, with its timely message about job loss and disconnection from others, to step into the breach. If a few more critic's awards follow suit, it could become the runaway frontrunner before Christmas.
Now, on to the charts. Tomorrow I see Avatar, this weekend I vote with the New York Film Critics Online, and on Tuesday I come back with what should be a pretty clear picture of the race-- even if I and everyone else still don't know what will actually happen.
As I said, Up in the Air is well-poised to become a favorite, and now The Blind Side is suddenly very much in the conversation, as some become convinced it could be the populist choice. I'm not allowed to talk about Sherlock Holmes really, but I consider it very much in the race. And Avatar, based on the earliest word, still seems likely too. Invictus and Nine are both weaker than they ought to be, but it's too early to give up on them entirely, and they seem precisely like the middle-of-the-road prestige choices that will be easy to fit in with the 10.
Precious:Based on the Novel 'Push' By Sapphire
Up Up in the Air
Avatar
An Education
The Hurt Locker
Inglourious Basterds
Invictus
Nine
A Serious Man
The Blind Side
Julie & Julia
The Last Station
Sherlock Holmes
A Single Man
The Road
500 Days of Summer
Bright Star
Brothers
Crazy Heart
District 9
The Hangover
The Lovely Bones
The Informant!
Public Enemies
Star Trek
Where the Wild Things Are
Invictus may be a fairly safe shot for a nomination, but I'm not so sure about Clint Eastwood-- the movie's rugby scenes are incomprehensible, and Morgan Freeman does much of the heavy lifting. I'm replacing him with James Cameron, again, and in a slightly bolder move, replacing Rob Marshall with Quentin Tarantino. It might be wishful thinking. Also, Jason Reitman becomes the first director to move into the "Mortal Lock" category, now that Up in the Air has received so much universal praise. Way to go!
Jason Reitman, Up in the Air
Kathryn Bigelow, The Hurt Locker
James Cameron, Avatar
Lee Daniels, Precious
Clint Eastwood, Invictus
Rob Marshall, Nine
Lone Scherfig, An Education
Jane Campion, Bright Star
Joel and Ethan Coen, A Serious Man
Tom Ford, A Single Man
Peter Jackson, The Lovely Bones
Quentin Tarantino, Inglourious Basterds
John Hillcoat, The Road
Michael Hoffman, The Last Station
Michael Mann, Public Enemies
Oren Moverman, The Messenger
Steven Soderbergh, The Informant!
Jim Sheridan, Brothers
The fifth slot in this category-- the one not possessed by Bridges, Firth, Clooney or Freeman-- seems very shaky right now. But I see Jeremy Renner snagging more critic's awards than anyone else, and if the spot doesn't just go to Daniel Day-Lewis by default, he's the young upstart most likely to get it. Freeman is vulnerable, though-- he's good in Invictus but not revolutionary. Maybe there will be room for McAvoy after all.
Jeff Bridges, Crazy Heart
Colin Firth, A Single Man
George Clooney, Up in the Air
Matt Damon, The Informant!
Daniel Day-Lewis, Nine
Morgan Freeman, Invictus
James McAvoy, The Last Station
Viggo Mortensen, The Road
Jeremy Renner, The Hurt Locker
Michael Stuhlbarg, A Serious Man
Sharlto Copley, District 9
Johnny Depp, Public Enemies
Joseph Gordon-Levitt, 500 Days of Summer
Hal Holbrook, That Evening Sun
Sam Rockwell, Moon
Ben Foster, The Messenger
Tobey Maguire, Brothers
Ben Whishaw, Bright Star
Bullock's nomination potential seems to be coming entirely out of a media-produced echo chamber-- Awards Daily says it could happen, so the LA Times says it could happen, so Entertainment Weekly says it could happen, and then suddenly it does. That doesn't make the hype any less real, though, and with no major contenders yet to come, really, Bullock may have pulled it off for real. We'll see how things go as The Blind Side slips away from the box office and what we're left with is a performance, not a money-making machine.
Carey Mulligan, An Education
Meryl Streep, Julie & Julia
Gabourey Sidibe, Precious
Sandra Bullock, The Blind Side
Marion Cotillard, Nine
Abbie Cornish, Bright Star
Maggie Gyllenhaal, Crazy Heart
Helen Mirren, The Last Station
Michelle Pfeiffer, Cheri
Natalie Portman, Brothers
Saiorsie Ronan, The Lovely Bones
Audrey Tautou, Coco Before Chanel
Last week I went out on a limb and included Woody Harrelson here-- and then the NBR goes ahead and gives him the win. I'm prescient! Or, really, just luck. But the "time to reward Woody" meme seems to be sticking, and while Waltz still seems like the likeliest winner here, I'm glad there's room for Harrelson at the table. Matt Damon's Invictus performance is a complete non-entity, and Tucci remains super vulnerable, so suddenly there's plenty of room.
Alfred Molina, An Education
Christoph Waltz, Inglourious Basterds
Matt Damon, Invictus
Woody Harrelson, The Messenger
Christopher Plummer, The Last Station
Peter Sarsgaard, An Education
Stanley Tucci, The Lovely Bones
Richard Kind, A Serious Man
Anthony Mackie, The Hurt Locker
Paul Schneider, Bright Star
Stanley Tucci, Julie & Julia
Alec Baldwin, It's Complicated
Jude Law, Sherlock Holmes
Kodi Smit-McPhee, The Road
Anna Kendrick is fantastic in Up in the Air, and I now consider her a lock for a nomination right alongside Mo'Nique. I still wonder about Kendrick and Farmiga both making it in, and Penelope Cruz getting nominated just a year after her win seems unlikely too, but this seems like the only possible combination at the moment. Bear with me while things sort themselves out.
Mo'Nique, Precious
Penelope Cruz, Nine
Judi Dench, Nine
Vera Farmiga, Up in the Air
Anna Kendrick, Up in the Air
Julianne Moore, A Single Man
Mariah Carey, Precious
Melanie Laurent, Inglourious Basterds
Samantha Morton, The Messenger
Kate Hudson, Nine
Diane Kruger, Inglourious Basterds
Paula Patton, Precious
Susan Sarandon, The Lovely Bones
Imelda Staunton, Taking Woodstock
Emma Thompson, An Education
Staff Writer at CinemaBlend
Your Daily Blend of Entertainment News
Thank you for signing up to CinemaBlend. You will receive a verification email shortly.
There was a problem. Please refresh the page and try again.