Oscars: Sean Penn's Bizarre Best Actress Speech Explained, Maybe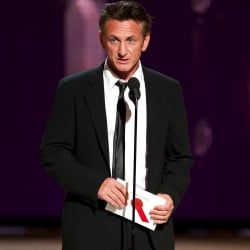 While it wasn't as bizarre as when the producer of the Best Documentary Short pulled a Kanye on the film's director, Sean Penn's introduction of the Best Actress category was another big "WTF?" moment during the Oscars last night. "I never became an official member of the Academy, but the Academy and I do have in common that we neglected to acknowledge the same actress in our own ways two years running. So I'm going to start fresh with the Academy and acknowledge these wonderful actresses." Huh?
Vulture thinks they might have solved the mystery-- it's about his ex-wife! When Penn won the Best Actor award for Milk last year, he didn't thank his wife, Robin Wright Penn; apparently they'd agreed beforehand that he wouldn't have the time, but then again, they split a few months later. And apparently Wright Penn's performance in The Private Lives of Pippa Lee was considered awards-worthy by some, therefore the Academy neglected to acknowledge her. It's sketchy logic, but then again, Sean Penn's brain is a strange place to be. Check out the video below and suggest your own explanations.
Your Daily Blend of Entertainment News
Staff Writer at CinemaBlend