Over 350 Avatar Screenings Already Sold Out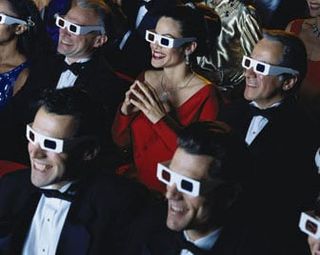 Avatar is less than 24 hours away from exploding onto the screen, with thousands of midnight screenings kicking off tonight. Early ticket sales are already giving an idea of just how big the movie may be.
Given the heavy focus on the movie's visual effects and 3D nature, it's no surprise the movie will open on a record number of 3D screen. Of the 3,457 theatres showing the movie, 2,032 will be running it in 3D, including more than 190 IMAX theaters. Also unsurprisingly, almost 90% of all ticket sales at some major movie ticket sites are for 3D screenings.
Already more than 350 showings have sold out online, with many others filling up. That's no indication the movie will be breaking New Moon's midnight or opening day records, but it's a healthy sign that audiences are excited.
One thing is for sure: guys are far more excited for this movie than the ladies. MovieTickets.com reports that 78% of its tickets are being bought-up by the boys. I guess shirtless characters with well-defined abs only get the ladies going if they're werewolves, not blue aliens.
Your Daily Blend of Entertainment News
Thank you for signing up to CinemaBlend. You will receive a verification email shortly.
There was a problem. Please refresh the page and try again.