Pacific Rim Midnight Screenings Did Better Than Expected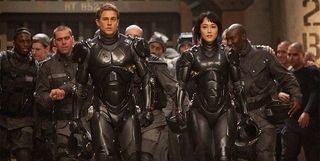 Earlier this week, it was looking like Pacific Rim was poised to flop at the box office in its opening weekend, with projected numbers somewhere between $25 and $35 million for the weekend, which would put it in line with The Lone Ranger, another big-budget film, which didn't perform especially well during its own opening weekend. But things may be looking up for the monsters-vs-robots sci-fi thriller, as Pacific Rim did better than expected with its Thursday night late night screenings, raking in $3.6 million from sci-fi fans who showed up to see Charlie Hunnam take down giant monsters from the sea.
Variety posted the box office numbers for Guillermo del Toro's Pacific Rim, noting that the $3.6 million in late screenings puts the movie about on par with World War Z. The zombie film went on to gross more than $66 million in its opening weekend. Whether or not Pacific Rim pulls off such a feat remains to be seen. It all depends on whether or not people continue to turn up to see the film throughout the weekend. Pacific Rim may end up falling somewhere between WWZ and The Lone Ranger in its final opening weekend numbers, the latter of which saw an opening weekend of $29.2 million, less than half of what the zombie film took in.
While there was some talk of things not going so well for Rim, we did have some indication that things were looking up for when Fandango noted that Pacific Rim was beating Grown Ups 2 on its "fanticipation" meter and making up 60% of the site's ticket sales, indicating that there were a lot of people eager enough to buy their tickets early for the film, which is a good sign. And in relation to World War Z, Pacific Rim was actually ahead of where the zombie film was at that point in its pre-release stage. If that's any indication and PR actually is on track to follow WWZ, we might expect Pacific Rim's final opening weekend box-office numbers to add up to something closer to WWZ's take. As for how this affects Grown-Ups 2, which is also opening this weekend, we'll have to wait and see.
3D ticket sales may help Pacific Rim even further, however after looking at Katey's "To 3D or Not to 3D" column for the movie, I'm thinking I'll pass on shelling out the extra money for Pacific Rim in 3D, as I originally planned, and saving that extra cash for when Elysium arrives on IMAX.
Check out the latest Pacific Rim trailer below and find more information, photos and videos here.
Your Daily Blend of Entertainment News
Thank you for signing up to CinemaBlend. You will receive a verification email shortly.
There was a problem. Please refresh the page and try again.