Pain & Gain Leads Friday Box Office On Its Way To $20 Million Weekend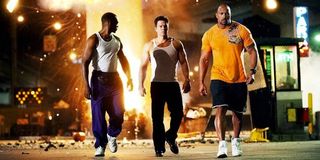 Michael Bay's Pain & Gain cost a hell of a lot less than any other movie he's made, which means that this opening weekend comes with much lower stakes. So while a $7 million Friday take-- including $750,000 from Thursday midnight shows-- would spell disaster for a Transformers movie, it seems to be positioning Pain & Gain for a pretty solid debut.
According to the numbers at The Hollywood Reporter, the movie starring The Rock and Mark Wahlberg is on track for a $20.5 million weekend, a bit above what the studio was projecting and a much better opening than The Rock had for Snitch ($13.1 million) or Wahlberg had for Broken City ($8.2 million) earlier this year. It's also far more money than Bay made on the opening weekend of The Island, which was made for $126 million and grossed just $35 million total domestically. On a $26 million budget Pain & Gain is by far Bay's smallest movie since Bad Boys-- and for an R-rated passion project with mixed reviews, it's doing pretty well for itself.
Running behind Pain & Gain is last weekend's big champion Oblivion, still holding strong with $5.2 million and an anticipated $16.8 million for the weekend. The weekend's other new release, The Big Wedding, is suffering massively by comparison-- it debuted at #4 on Friday with just $2.6 million, on track for $8 million-- maybe what you'd expect after rough reviews, but disappointing especially at a time with so few films out there for women. Oddly enough, both The Big Wedding and Pain & Gain earned unimpressive C+ CinemaScores from audiences-- but in the battle between the violent satire and the fluffy wedding comedy, for once, it's the more interesting film winning at the box office.
We'll have a full box office report to you tomorrow. In the meantime, let us know in the comments what you've been seeing.
Your Daily Blend of Entertainment News
Staff Writer at CinemaBlend