Paramount Looks To Adam Sandler's Happy Madison To Remake Summer School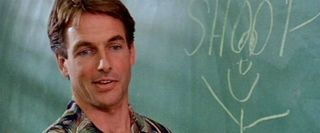 After trying for several years to remake Summer School, Paramount may have finally found the right producers for the job. The property has been in and out of development since 2005, with more than a few versions falling by the wayside including one that would have paired a 'hard-nosed teacher against a mischievous student' (so, really not a remake of the 80s comedy at all) as well as one from the Transformers team of Roberto Orci and Alex Kurtzman. The latter fell apart less than two years ago and now Paramount is in negotiations for Adam Sandler's Happy Madison to finally bring Summer School to the big-screen. Well, for the second time.
THR reports that the studio is intent on Sandler and Jack Giaraputo's production company remaking the film and rightfully returning it to its roots as a comedy. Not that the Marc Harmon-starring, Carl Reiner-directed movie from the middle of the 80s is a sacred text or anything but the aforementioned first potential remake doesn't even resemble the original that follows a laid back gym teacher who is forced to cancel his summer plans with his young and lovely girlfriend to stay behind, teach a summer school English class full of 'failures' and fall in love with Kirstie Alley.
Somehow that turns into a rewarding experience, probably because he helps the failures to realize their potential and Alley in the 80s was actually a sex symbol. The proposed new version from Paramount would put Sandler (and his partner) in the producer's seat, but he, at the moment, has no intention to actually star in Summer School himself. I'm not sure why he wouldn't - it actually sounds like a project that, if they stick pretty close to the spirit of the original, would be a good fit for the fledgling comedian and a chance to do something different. That is, unless the writer (or writers) change Mr. Shoop into a gibberish speaking hot-head. Please, no. I like the original but am not particularly miffed by the decision to remake, especially if they can find a great cast of young comedians to fill the class. I wonder if Harmon or Courtney Thorne-Smith (or even Reiner) will cameo?