Paranormal Acitvity Sequel Still Promised By Greedy Executives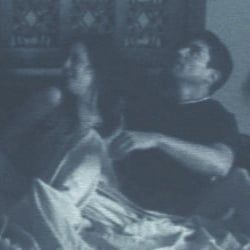 Since Paranormal Activity became such a gigantic hit, there haven't been rumors of a sequel so much as glum anticipation-- it made a lot of money on the cheap, and of course the executives are going to cash in on it. Now we know that we were right. THR is reporting that in a conference call about quarterly earnings for Viacom (which owns Paramount), CEO Phillippe Dauman admitted they're planning Paranormal Activity 2.
"Our team will come up with the right creative and marketing approach," he promised, while ignoring the fact that Paranormal Activity is pretty much the definition of a once-in-a-blue-moon hit. It'll be great to see Oren Peli and stars Katie Featherston and Micah Sloat go on to bigger and better things, but I honestly see nothing left to draw from the Paranormal Activity well. The entire point of the film was bringing in an audience that had no idea what to expect. Now the jig is up, and it's time for everyone to come up with, I don't know, maybe more original stories? As much as we grumble about sequels and remakes as part of our daily routine, it's genuinely soul-crushing to see the response to original material (like Paranormal or The Hangover) turning into the knee-jerk reaction of a sequel. Originality succeeds for a reason, guys, but it's a lesson that will never, ever be learned so long as there's a dollar to make.
Staff Writer at CinemaBlend
Your Daily Blend of Entertainment News
Thank you for signing up to CinemaBlend. You will receive a verification email shortly.
There was a problem. Please refresh the page and try again.