Paranormal Activity 4 Gets A Release Date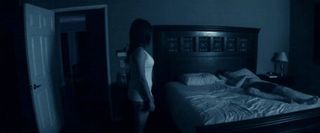 Earlier this week we learned that the Paranormal Activity franchise would be getting another sequel this year. The obvious prediction for the release date for the horror film would be somewhere near Halloween, which is when the earlier films made their way into theaters. Sure enough, the announced date does fall into that timeframe, which means in less than a year, fans of the found-footage films will be able to return to the theater to see what horrors await in Paranormal Activity 4.
Deadline posted the news of the release date, stating that Paranormal Activity 4 will hit theaters on October 19, 2012, which puts it in (or as near as possible as) the same October weekend held by the wide releases of the previous two sequels.
With the release date set, we're left to speculate over the subject of the film. Eric addressed the direction of the franchise on Monday when sharing the news about the sequel, mentioning the possibility but unlikelihood that they'd abandon the found-footage format. I'm inclined to agree with him there, that it's unlikely they'll do anything to drastically alter the recipe. Or inadvisable, anyway. Given the third film's record-breaking opening weekend (per Deadline, $52.6 million, which is a record for a horror movie), it's probably safe to predict that the fourth film will also follow the found-footage format. But (as Eric also suggested), they may decide to switch families and introduce a whole new story, or one that is only loosely related to the original films.
In the meantime, for those who haven't seen it yet, or who liked it enough to own or rent it, Paranormal Activity 3 makes its way to blu-ray and DVD later this month (January 24th).
Your Daily Blend of Entertainment News
Thank you for signing up to CinemaBlend. You will receive a verification email shortly.
There was a problem. Please refresh the page and try again.