Paul Rudd's Best Role: Wet Hot American Summer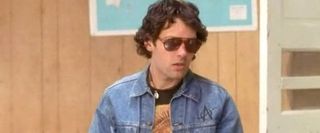 This week Paul Rudd grows a beard and some hippie hair and harasses his sisters in Our Idiot Brother, the Sundance comedy picked up by the Weinstein Company. It's only the latest in a string of slam-dunk comedic roles from Rudd, who started off as every 15-year-old's dream boyfriend in Clueless, then was rescued from a string of bland rom-com roles when he got picked up by seemingly every funny bunch of comedians making movies, from The State guys and Wet Hot American Summer to Judd Apatow and his ever-expanding empire.
But with so much Rudd goodness to enjoy, how can you possibly choose a favorite? Is there even any way to pit Anchorman's Brian Fantana against I Love You Man's Peter Klaven? It may be a foolish effort, but we here at Cinema Blend are going to try it anyway. Every day this week we'll present you with an argument for a certain role as being Paul Rudd's best. You can vote in the poll at the bottom and let us know your own thoughts, but remember, we're going in chronological order, so just because your favorite hasn't yet come up doesn't mean it won't (If you're holding your breath for How Do You Know, though, I can go ahead and let you down now). Kicking things off today is Katey, with an argument for Paul Rudd as Andy, who is like cut from marble in 1999's Wet Hot American Summer.
Fresh off a breakout role in Clueless and a turn playing Jennifer Aniston's crush in The Object of My Affection, in 1999 Paul Rudd had the option of cruising through a career as an easy-on-the-eyes rom-com star. And while plenty of those roles were yet to come, Paul Rudd the comedy superstar never would have existed without Wet Hot American Summer, the psychotically weird and wonderful summer camp parody that proved for the first time how insanely funny Rudd could be, while having crucial, genuine acting talent to back it up.
His Andy is the studliest counselor at Camp Firewood, able to be the boyfriend of super-hot Katie, who really ought to know better, while making out with equally hot Lindsay on the dock. He's also a complete child, throwing a tantrum when forced to clean up after himself in the dining hall, claiming to write in his "gurnal," and breaking things off with Lindsay with the classy line, "You taste like a burger, I don't like you anymore." He's also, let's face it, a child killer, allowing two kids to drown in the lake and tossing two others in a ditch for being witnesses.
Rudd's inherent likability, which made him such easy casting in lame movies like The Object Of My Affection, has nothing to do with this role. Andy is a complete, irredeemable asshole, and to play him Rudd turns off all the attributes that went into the process of making him a star. At the same time he completely jives with the weird, sometimes surreal comedy style of David Wain, not just requiring him to play a teenager at age 30, but spend an entire movie wearing cutoff jean shorts and jamming his tongue down Elizabeth Banks's throat at every moment. It's a performance that shows both near-limitless comedic range and the acting chops to build a believable character in a movie world that made no sense at all.
There are so many actors in Wet Hot American Summer that not all of them get to interact, and in some ways the movie is a dozen short stories woven together around the flimsiest of plots. But because Andy is kind of the force of anarchy in the movie, doing what he wants and when he wants to, he crosses over with so many of the characters, slinging himself around the dining hall under the watchful eye of Janeane Garofalo, emasculating Michael Showalter, and especially playing tonsil hockey with Elizabeth Banks, with whom he has a totally different but equally great chemistry in this week's Our Idiot Brother. It's early proof that Rudd is capable of pretty much anything, and more importantly built him connections that, as we'll talk about later in this series, led him to much bigger stuff in the future.
Pretty much everyone in Wet Hot American Summer should have immediately become huge stars, but of course, nobody actually saw it at the time. Now a ton of them really are big stars, and aside from Bradley Cooper, maybe none of them is bigger than Paul Rudd. He'd already had a few chances to prove his huge potential before Wet Hot, but none of the roles he did before or since have captured such an anarchic, totally committed performance that's just one crucial part of a movie that's only gotten better with time.
This poll is no longer available.
Staff Writer at CinemaBlend
Your Daily Blend of Entertainment News
Thank you for signing up to CinemaBlend. You will receive a verification email shortly.
There was a problem. Please refresh the page and try again.