Paula Patton To Star In Flight Attendant Rom-Com Baggage Claim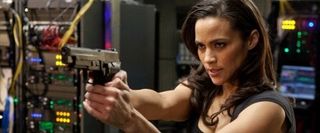 Though pretty much every human in Mission: Impossible - Ghost Protocol was outshines by the giant Burj Khalifa building and the suction gloves Tom Cruise used to climb it, everyone in the movie has also gotten a boost from being in such a big hit. That might go double for Paula Patton, who was the least famous of the central four characters before the movie, and has been busily booking roles in all kinds of films in the last few years. She's already set to star opposite Denzel Washington and Mark Wahlberg in 2 Guns, a heist thriller in which she'll play Washington's love interest, and now she's signed on for a film that will put her in a much bigger lead role.
Deadline reports she'll star for director and writer David tablet in Baggage Claim, a comedy about a group of flight attendants who make a pact to find a husband in either 30 days or 30,000 miles. Talbert is explicitly compared to Tyler Perry in the article, another black filmmaker who got his start writing and touring plays around black communities. Unlike Perry, though, Talbert has only made one other film-- 2008's First Sunday-- but his plays have been big enough hits that his breakthrough into filmmaking may be ready to happen. Baggage Claim itself is based on Talbert's own bestselling novel, so like Perry he's got a big fanbase he could potentially bring into movie theaters.
Fox Searchlight will be producing and distributing their film, and despite their lily-white reputation with films like Juno and Little Miss Sunshine, they actually made a previous effort to reach out to black audiences through romantic comedy, with 2010's Just Wright. That film also costarred Patton, and though it only made $21 million at the box office, it was clearly a step in a direction Fox Searchlight was interested in heading. Patton was actually really good in Just Wright, outshining the ostensible star Queen Latifah, and between that and last year's surprise hit Jumping the Broom, she's on the verge of establishing herself as a serious rom-com star in a time when there are precious few of them left. Talbert may have made his name with black audiences, but with Patton on board, they both may be poised for much broader success.
Your Daily Blend of Entertainment News
Staff Writer at CinemaBlend