Penn Jillette Reveals Exclusive Details On His Crowd-Funded Horror Movie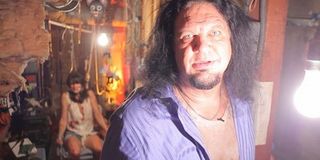 Penn Jillette is a man obsessed with what's beneath the surface of things. He and his silent partner Teller have been shining a light on the secrets of magic for decades on stage and screen. Their controversial series Penn & Teller: Bullshit made debunking its full-time mission. Even their latest doc Tim's Vermeer demystified, offering a solid and fascinating argument about how the Dutch master must have painted. So we should expect nothing less of Jillette's upcoming dip into horror, Director's Cut.
Jillette made some details of the film very public when the project began crowd-funding. In the video viewable below, he entreated his fans to chip in so he could go from "your mom's favorite atheist" to the kind of guy who inspires nightmares.
Recently, I had the chance to talk to Jillette about Director's Cut, and he surprised me by confessing it's not just a crowd-funded movie, but also "a crowd-funded movie about crowd-funding." Yup, he's going meta. He explained:
Asked how crowdfunding is changing the movie industry, Jillette offered:
As to where the production is at now, they are currently casting for the female lead. To Jillette, the film's star/writer/producer, this is the film's most crucial component:
Whoever this yet-to-be-cast leading lady may be, she will likely have a long list of illustrious co-stars, many of whom are friends of Jillette. Carrot Top and Glenn Beck and Neil Gaiman, Joel Grey, Ron Jeremy and more made appearances in the crowd-funding campaign, and Jillette is confident some will return for Director's Cut cameos. He says:
Your Daily Blend of Entertainment News
Staff writer at CinemaBlend.