Peter Jackson's The Hobbit Still Not Greenlit And He's Tuning Out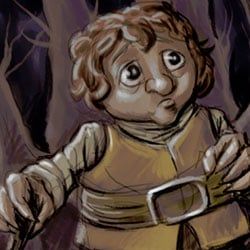 Anyone who's been itching for that Hobbit movie is unfortunately going to have to wait a bit; or more realistically, a good long while. Peter Jackson, director of the Lord of the Rings trilogy, spoke with Empire recently about the state of the project, and it's mostly bad news.
Jackson, who supposedly replaced previously slated director Guillermo del Toro, had this to say, "We haven't got a greenlight yet. We're still waiting. Things still seem to be inching closer to some sort of happy place. I keep hearing that so many times now I've stopped tuning into it."
This flies in the face of recent Hobbit-related news and discussion, much of it centering around the idea that the films are on track to begin production in January for a 2012 and 2013 release schedule (both in 3D as well, for some reason). Jackson goes on to explain the situation, saying,
It's unfortunate that the film is having so much trouble getting off the ground, especially with the original trilogy garnering a Best Picture win among other accolades. If you're unfamiliar with the book, The Hobbit was a children's fantasy novel written by J.R.R. Tolkien and published in 1937. The story introduces characters such as Gandalf and Bilbo Baggins, as well as Gollum and his ring. The Lord of the Rings trilogy is actually a sequel to The Hobbit, but obviously quite a bit more expansive and epic. It's for this reason that i was very wary of a Hobbit movie. While The Lord of the Rings had scope and scale enough for six movies if they could've managed it, I don't feel like there's enough interesting material in The Hobbit for one film, let alone two.
Specifically, The Hobbit was written for children, and I can definitely see it as a great kid's movie. But as an adult epic on the same level as Lord of the Rings? It's going to be hard to meet fan expectations without changing the material significantly. Either way, if Jackson is still passionate about the project, then I suppose I'm still on board. He didn't let us down last time, so I think he's earned some measure of faith. And luckily, it looks like he's got a little bit of zeal left in them,
Your Daily Blend of Entertainment News
Thank you for signing up to CinemaBlend. You will receive a verification email shortly.
There was a problem. Please refresh the page and try again.