Peter Jackson Wants Guillermo del Toro For New King Kong Movie, Skull Island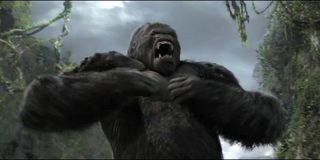 There are two things to know before starting to get into this article. First: some artists out there are just besties for life, so if you ask one about the other, they'll automatically get warm and cuddly, no matter the context. Second: if you're a movie executive, you're probably not going to get Guillermo del Toro to make your movie, since the guy is busy from now until Ragnarok. It's just how it is. All that said, it's not a huge surprise that when a juicy Peter Jackson-related vacancy in the directing game opens up, he's totally going to talk up his buddy Guillermo as a candidate.
The vacancy in question today is Skull Island, the new Legendary Pictures-backed King Kong revival that was recently announced at San Diego Comic-Con... much to the surprise of King Kong director Peter Jackson. And since it only made sense that frequent Legendary Pictures collaborator Guillermo del Toro would be involved, Collider decided to ask Jackson what he thought about Del Toro possibly taking the reins of the project.
Yo Guillermo, PJ's got ya back!
The question that remains is whether or not this is even possible. Del Toro made Pacific Rim for Legendary, a relationship so pleasurable that they opted to move forward with Pacific Rim 2. The director also worked with the company yet again on next year's Crimson Peak. With Skull Island gearing up for a November 2016 release date, is it feasible del Toro could shoot that film before jumping onto Pacific Rim 2 (currently scheduled for 2017)?
Well, no. That would be Herculean. And not mercenary warlord-defeating Herculean like Dwayne Johnson, but actual godlike Herculean. Del Toro claims after finishing Crimson Peak that he'll want to dive into another smaller film. As if that weren't enough, he can't just "jump into" a Pacific Rim sequel. This is happening at Universal instead of the WB, and in addition to the extensive world-building, robot designs and complex special effects, you're probably going to be looking at a much lower-budgeted film, since Pacific Rim underperformed at the domestic box office. You'll recall that some of your friends opted for Grown Ups 2 instead (you should get new friends).
It makes sense that Jackson would champion his friend. It was del Toro who was originally supposed to make The Hobbit back when it was going to be two brand new films instead of three more extensions of a brand. If Joe Cornish takes the offer to helm Skull Island, it does sound like the story would be in good hands. But a del Toro King Kong might be fun, no? Skull Island arrives November 2, 2016, and Pacific Rim 2 hits on April 7th, 2017.
Your Daily Blend of Entertainment News
Your Daily Blend of Entertainment News
Thank you for signing up to CinemaBlend. You will receive a verification email shortly.
There was a problem. Please refresh the page and try again.