Phineas And Ferb Movie Hires Toy Story 3 Writer Michael Arndt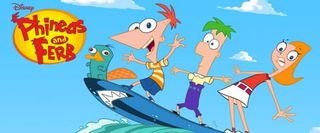 There's 104 days of summer vacation, and each one just became more awesome because of the following news. Michael Arndt, Oscar-winning screenwriter of Little Miss Sunshine and Toy Story 3 is being hired to write Disney's Phineas and Ferb movie, which is scheduled to hit theaters on July 26, 2013.
If you don't have kids (or a sense of humor), you might not know that Phineas and Ferb are inventive siblings who spend each day of their summer vacation coming up with a new adventure. The brothers are regularly opposed by older sister Candace, who's obsessed with "busting" them in front of their clueless mom. And then there's Phineas and Ferb's pet platypus, Perry, who's an undercover agent with his own nemesis.
On paper, it sounds strange. But Disney Channel's Phineas and Ferb is, hands down, the most clever animated program on television these days. The series experimented with a longer-form story with the recent TV movie Across the Second Dimension, but this will be the first foray into theatrical programming.
The L.A. Times says Arndt will polish a draft handed in by show creators Swampy Marsh and Dan Povenmire, which is good because you wouldn't want anyone not related to the show to try and understand the sharp humor. It would almost be like Trey Parker and Matt Stone handing scripting duties on a South Park film over to an outsider. You just wouldn't do that. But if anyone needs to do a polish on what's sure to be a hilarious and incredibly creative animated feature, Arndt is the man.
Movie junkie. Infatuated with comic-book films. ReelBlend cohost. Resident dad. Extroverted introvert. Wants to see the Snyder Cut. Managing Director at CinemaBlend.