Pitch Perfect 2 Must Feature The Epic Pillow Fight Seen Here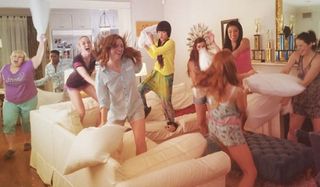 Just in case you were wondering if making Pitch Perfect 2 is as fun as you'd imagine, Anna Kendrick assures us all it is with an Instagram shot of this pillow fight pic.
Huffpo tipped us to the unofficial Pitch Perfect 2 still, which shows the a cappella enthusiasts in full swing of a sprawling pillow fight. You can spot Brittany Snow in the plaid pajamas, and Rebel Wilson in purple.
Snow shared a follow-up shot on her own Instagram, showing what appears to be a few seconds later, when Wilson is in full warrior mode wielding her pillow while whipping her hair back and forth.
She hasn't been shy about sharing shots from production that tease what an amazing time this shoot has been. Here's one from the girls hitting up a karaoke bar.
Here's a shot with Brittany Snow, Anna Kendrick, Kelley Jakle and Anna Camp striking a fish face and fan combo:
And the Pitch Perfect 2 cast embracing their inner high school stereotypes:
This last one was apparently a theme party Snow threw. Kendrick tipped that by offering a shot of a cheeky direction.
Penned by Kay Cannon, Pitch Perfect 2 has the Barden Bellas back in action with Anna Kendrick, Anna Camp, Brittany Snow, Alexis Knapp, Adam Devine, Rebel Wilson, Elizabeth Banks, and Ben Platt reprising their roles. Banks, who was also a producer on the first film, will make her feature directorial debut on the sequel.
Pitch Perfect 2 will hit theaters on May 15th, 2015. Hopefully, with a massive pillow fight.
Your Daily Blend of Entertainment News
Staff writer at CinemaBlend.