Pixar Pushes The Good Dinosaur, Leaving 2014 Completely Pixar-Free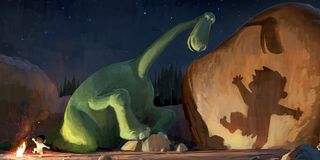 Over the past few years, movie audiences have come to expect a new Pixar movie every year. And with each year and each exciting new release, our expectations for the next grow, making it harder and harder to impress us all. And with so many eyes on everything they put out, the storytellers at Pixar have seriously shaken up their schedule. LA Times has revealed the animation studio is bumping their 2014 release The Good Dinosaur from May 30th, 2014, all the way to November 25th, 2015. This means there will be no Pixar release coming to theaters in 2014 at all, and that the Finding Nemo sequel, Finding Dory has been knocked domino-style from Thanksgiving 2015 to the summer of 2016.
What demanded a schedule change of a year and a half? Well, that'd be because of a major change in direction, or at least director. Last summer, The Good Dinosaur director Bob Peterson (co-director of Up) was taken off the project. While this might sound like bad news for the future of the film, it's worth noting this has become a pretty standard Pixar practice for better or worse. Memorably both Ratatouille and Brave underwent director change-ups in production, with the first swapping Jan Pinkava for Brad Bird and the latter switching Brenda Chapman for Mark Andrews.
Though it has been a several weeks since news of Peterson's departure was made public, Pixar hasn't yet found a replacement helmer. To keep things rolling along on The Good Dinosaur, a team including Brave's Andrews, Pixar Chief Creative Officer John Lasseter, Toy Story 3 director Lee Unkrich, and A Good Dinosaur's initial co-director Peter Sohn have been sharing the workload. But it's coming to the point where a singular creative vision could prove crucial to the film's success, so more time needed to be added to find the right filmmaker to step in. Pixar president Ed Catmull explains their weighing of options, "Nobody ever remembers the fact that you slipped a film, but they will remember a bad film. Our conclusion was that we were going to give the [dinosaur] film some more time."
Basically, Pixar would rather miss a release date than release a dud. So, while we wait for word on A Good Dinosaur, Pixar devotees will have Pete Docter's Inside Out to look forward to next. That Pixar picture, which is set within the brain of a young girl, is set to hit theaters on June 19th, 2015.
Staff writer at CinemaBlend.
Your Daily Blend of Entertainment News
Thank you for signing up to CinemaBlend. You will receive a verification email shortly.
There was a problem. Please refresh the page and try again.