The Princess Bride Inconceivably Releasing A 25th Anniversary Blu-Ray In October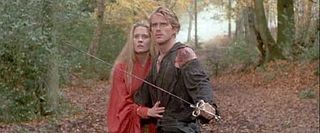 Rob Reiner's The Princess Bride is a comedy that has remained part of the cultural lexicon over the years, likely due to its cross-section of an audience lured in by either comedy, romance, fantasy, or adventure. Over the years, Twentieth Century Fox Home Entertainment has been pretty good about continually putting out releases, with a 20th Anniversary edition and a Blu-Ray/DVD combo pack released in 2007 and 2009, respectively. Despite new releases popping up once every few years, Fox has often added bonus features to entice fans to buy newer sets.
On October 2nd, Twentieth Century Fox Home Entertainment will release The Princess Bride (25th Anniversary Edition) on Blu-Ray, celebrating 25 years since Buttercup and Westley found one another and Inigo Montoya enacted his revenge. If you already own a Blu-Ray copy of the flick, you likely have access to many of the bonus features available with the set; however, Fox has put together a brand-new, two-part featurette series for the upcoming release called "True Love: The Princess Bride Phenomenon." The first part will feature director Rob Reiner, actor Cary Elwes, and actress Robin Wright as they swap stories from their time on the set. The second part will show interviews with cast and crew members (including writer William Goldman and actor Christopher Guest) as they discuss why The Princess Bride has become such a lasting film.
Additionally, fans will be able to vote for the new cover art for the new edition via the film's Facebook page. Usually The Princess Bride cover art creators like to focus on Buttercup and Westley, which is still an option, but this time fans can also choose a plain red backdrop with the focus on the crown.
A final cover art announcement is expected to be made on July 12th. Until then, check out the full list of special features below.
Audio Commentary by Rob Reiner
Audio Commentary by William Goldman
Part 1:True Love: The Princess Bride Phenomenon
Part 2:True Love: The Princess Bride Phenomenon
As You Wish: The Story of The Princess Bride
Cary Elwes Video Diary
Miraculous Makeup
The Dread Pirate Roberts: Greatest Pirate of the Seven Seas
Love Is Like a Storybook
The Princess Bride: The Untold Tales featurette
The Art of Fencing featurette
Fairytales and Folklore featurette
Original theatrical trailer
Easter Eggs
Your Daily Blend of Entertainment News
Thank you for signing up to CinemaBlend. You will receive a verification email shortly.
There was a problem. Please refresh the page and try again.