Production On Green Lantern Has Wrapped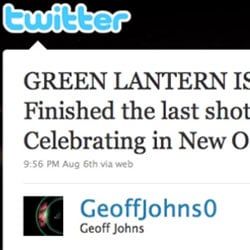 Great news for Green Lantern fans: according to a tweet from DC Chief Creative Officer Geoff Johns, production on the film officially wrapped last Friday. Here's what Johns had to say:
That's some great news for any fans of the character, DC, or comic book movies in general, who can all safely assume the movie will make its June 17, 2011 release date. It may also mean we'll start seeing more of the goods from the film very soon. They didn't show off much at Comic Con and the first look at Ryan Reynolds in costume raised a lot of fanboy doubts. With all the film in the can, though, hopefully they'll be able to put together an actual trailer fairly soon.