The Punisher Sent To Kill Denzel Washington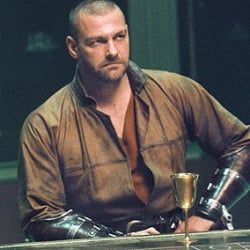 Apparently Ray Stevenson does all kinds of awesome stuff with a rocket in this weekend's The Punisher: War Zone, a movie that doesn't seem all that likely to make him a star. But hey, at least he can bring that expertise to his next role, in which he'll have the unenviable task of killing the man dispatched to save the world. And did I mention the man is Denzel Washington? Yeah, Stevenson doesn't stand a chance.
The newest Punisher has joined the cast of The Book of Eli, and as Variety reports will be playing an enforcer who has to kill Eli (Washington) as he travels across the country protecting a book that seems likely to save the world. Mila Kunis has also signed on for a role as someone sent to kill Eli, but she switches to the good side near the end, so I'm guessing her character makes it longer than Stevenson's, who is bound to die in some sort of climactic battle.
But that doesn't mean I'm not looking forward to whatever rocket-launching skills he can bring to the battle.
Staff Writer at CinemaBlend
Your Daily Blend of Entertainment News
Thank you for signing up to CinemaBlend. You will receive a verification email shortly.
There was a problem. Please refresh the page and try again.