Quentin Tarantino Is Planning To Quit Making Movies Way Sooner Than We Thought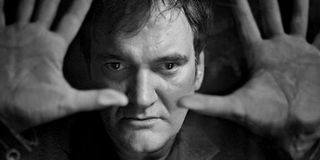 Quentin Tarantino has been giving American audiences a jolt with his collision of homage, over-the-top violence, and mesmerizing monologues since he burst on to the scene in 1992 with Reservoir Dogs. But enjoy it while you can. The writer-director behind such exhilarating cinema as Pulp Fiction, Kill Bill and Inglorious Basterds is already talking retirement.
The American Film Market is spewing out all kinds of news, announcing J.D. Salinger biopics and revealing a movie poster for a John Cusack/Jackie Chan movie that has us flabbergasted. Then there's Quentin Tarantino's retirement. According to Deadline, Tarantino's soon-to-shoot The Hateful Eight will be one of his last three films.
In promoting Hateful Eight to foreign distributors, Tarantino trotted out castmembers like Walton Goggins, Samuel L. Jackson, Kurt Russell and Jennifer Jason Leigh. It was the last of these who tipped the retirement talk, saying she was grateful to get a chance to work with the Western's helmer before he hung up his spurs. Tarantino said of the decision to retire:
So, if Quentin Tarantino sticks to his guns (I can't stop with these Western puns now), that means his filmography will read:
Resevoir Dogs (1992)
Pulp Fiction (1994)
Jackie Brown (1997)
Kill Bill (2003-2004) [Counted as one by Tarantino]
Death Proof (2007)
Inglorious Basterds (2009)
Django Unchained (2012)
The Hateful Eight (2015)
Mystery Movie #1 (TBD)
Mystery Movie #2 (TBD)
If you don't believe someone who loves making movies as much as Tarantino could give it up, you're not alone. His Deathproof leading man Kurt Russell was quick to scoff at the idea, saying, "You don't actually believe that shit, do you?"
Samuel L. Jackson concurred, asking, "What's Quentin going to do with himself if he's not doing this?"
Tarantino had an answer to that, offering, "Writing plays and books, going gracefully into my tender years." So, we may not have more movies from this thrilling director. But it's not the last we'll hear from him.
The Hateful Eight is expected to roll into production this December.
Your Daily Blend of Entertainment News
Staff writer at CinemaBlend.
Your Daily Blend of Entertainment News
Thank you for signing up to CinemaBlend. You will receive a verification email shortly.
There was a problem. Please refresh the page and try again.