Rashida Jones And Andy Samberg Will Break Up In Celeste And Jesse Forever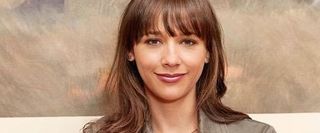 For a while it seemed Rashida Jones would be permanently stuck in the role of the pretty, funny-ish but ultimately disposable girl in a comedy-- it happened to Karen on The Office, to her fiancee character Zooey in I Love You Man, and at first to Ann Perkins, her nurse character on Parks & Recreation. But as that show has gotten better it's done far more with Ann, allowing Jones to get just as zany as her co-stars and prove her comedic chops; at the same time she's popped up in a small role in The Social Network and the dramatic indie Monogamy, proving she's got more serious skills in there too.
On top of it all, Jones is trying her hand as a screenwriter, and now funding has finally come together for her romantic comedy Celeste and Jesse Forever. The LA Times reports that Jones and Andy Samberg will co-star as a divorcing couple trying to stay friends; as Jones describes the story, "Our movie is about two people who love each other a ton but they don't know what to do with that love, and how do you let that person go." Jones wrote the script with a fellow actor Will McCormack, and two years ago it was picked up by the specialty arm Fox Atomic, which was shuttered not long after. In a weird streak of bad luck it next went to Overture Films, which also shut down; now it's going into production with independent financing from people who previously brought you Memento and Prime.
The director, Lee Toland Krieger, has a connection to Jones's Parks & Recreation co-star Adam Scott, having directed him in the indie The Vicious Kind, which earned Scott an Independent Spirit Awards nomination. Celeste and Jesse will be a little more comedic, but Jones insists to the LA Times it has a dramatic streak as well-- "It's the version of 'When Harry Met Sally' 20 years later, or 'Blue Valentine.' It's really about how you break up with someone.'" Filming starts this spring before Samberg goes off to shoot I Hate You Dad with Adam Sandler. I cannot wait to see this one.
Staff Writer at CinemaBlend
Your Daily Blend of Entertainment News
Thank you for signing up to CinemaBlend. You will receive a verification email shortly.
There was a problem. Please refresh the page and try again.