Ray Romano Has A Cameo In Funny People?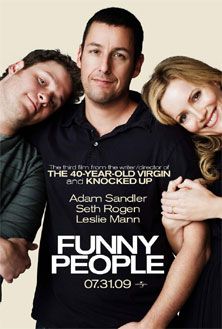 Judd Apatow's Funny People will feature a lot of people pretending to be stand-up comics-- Seth Rogen and Eric Bana among them-- but they've also promised cameos from some real-life comics that everyone will recognize. While out promoting Paul Blart: Mall Cop, Kevin James admitted he won't be one of the featured cameos, but he did tell us exclusively who might be taking part.
"I think Ray Romano's in it," James told me, after explaining why he won't be part of it-- at least not a big part of it. "I'm not in the movie, only because-- I guess I've been hanging out with Adam too much, and they didn't want to make it real life, like it was Adam Sandler." He's got a point. Sandler is playing a character in the movie, after all, and James might make everyone feel briefly like they were seeing I Now Pronounce You Chuck and Larry 2.
But James said he did perform stand-up shows with some of the cast members during the filming, shows they apparently used to hone their skills. So it's possible that some of that footage may make it into the film-- or at least on the DVD extras. Just proof that you never really know who will show up in Funny People, and that we'll all have to be watching with sharp eyes when it comes out July 31.
Check back later for more of our exclusive interview with Kevin James, as well as more of his stories from behind the scenes of Paul Blart: Mall Cop.
Your Daily Blend of Entertainment News
Staff Writer at CinemaBlend