Red Band Trailer For Goon Wants To Knock Your Teeth In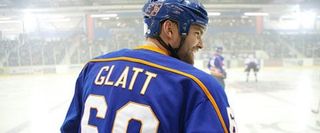 It has been quite a while since we've had a great hockey movie. Those precocious Mighty Ducks are all growed up now and Happy Gilmore focused on a hockey player who spent his time on the fairway instead of in the rink. Luckily, Michael Dowse's comedy Goon, not to be confused with the David Fincher-produced graphic novel adaptation, is gearing up to take the ice. Goon is the story of a bouncer (Sean William Scott) whose aptitude for administering beatings lands him a spot on the roster of a local hockey team. The film also stars Jay Baruchel, Liev Schreiber, and Scott Pilgrim vs. The World's Alison Pill. Now, a red band trailer has hit the web that gives us all the dirty details. Give it a look, eh?
REMOVED BY REQUEST OF THE PRODUCERS. AN OFFICIAL VERSION SHOULD BE AVAILABLE IN 2-3 WEEKS
Is it just us, or does this thing look awesome? We've got a hockey comedy that plays up the game's violent nature to the point that it's almost portrayed as brutal slapstick; something reminiscent of the legendary Slap Shot from 1977. We also have that great underdog storyline of a guy who has never played the sport before but demonstrates a knack for some element of the game in other facets of life, in this case fighting. This sets us up beautifully for at least one training montage.
The fact that this is a red band trailer also gives us a suitable taste of what breed of humor we can expect. The jokes are raunchy enough to feel authentic without being obnoxiously vulgar or moronic. The exaggerated Canadian accents, a hallmark of director Michael Dowse (Fubar, Fubar II: Balls to the Wall) are just inherently hilarious. The showdown between Sean William Scott and Live Shrieber has the potential to be the must-see comedy moment this year.
The film has played TIFF, but no word on when the puck drops here in the states.
Your Daily Blend of Entertainment News
Thank you for signing up to CinemaBlend. You will receive a verification email shortly.
There was a problem. Please refresh the page and try again.