Remember When The Expendables 3 Got Leaked? Well, Someone Just Got Arrested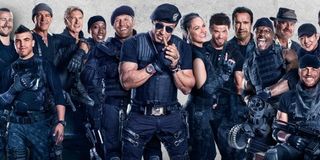 When The Expendables 3 failed to match the box office sum of its predecessors, the blame was immediately placed at the feet of the nifty individual who stole a digital copy of the film and released it on the world wide web. But now, Sylvester Stallone and his aggressive posse of vigilantes have got an ounce of retribution after an individual was arrested in England and charged with the illegal leak of the film.
Deadline reports that a crack team consisting of the U.K.'s Police Intellectual Property Crime Unit, the U.S. Immigration and Customs Enforcement, Homeland Security Investigations, and the MPAA came together to hunt down the man they believe is responsible. It was basically just like The Expendables, but probably with less muscle, more brains, and it was, even with the necessary paperwork, probably less tedious.
Who was the dastardly mastermind behind this daring cyber robbery? Well it turns out that the unnamed individual is 26-years-old, and the only other information we have is that he was arrested at his place of work in Leeds on Thursday morning. Authorities searching for further evidence also ransacked his home in the nearby town of Halifax.
Soon after it was revealed that someone had been arrested in connection with the leak, Sylvester Stallone took the opportunity to thank those involved, while also insisting that more needs to be done to protect creatives. His statement declared:
After the arrest, Mick Dodge, a City Of London Police Detective Inspector, insisted that this would likely be the first of many arrests as the combined forces begin their efforts to crackdown on "criminals exploiting intellectual property for their own financial gain." Based out of the City Of London Police Department's Economic Crime Directorate, the PIPCU began the investigation in September 2013, and they were able to make this arrest after Lionsgate uncovered that the theft of just one digital copy led to the film being plastered across the Internet.
The Expendables 3 was released on August 15, 2014, to the same mixed reviews that greeted the first two instalments. But, more alarmingly for the studio, its box office was more than $70 million less than 2010's The Expendables, and $100 million less than The Expendables 2. The blame for this failure was immediately laid at the door of a DVD-quality illegal leak, which hit the Internet three weeks before the film was released. In fact, after just one week it was estimated that The Expendables 3 had been illegally downloaded over 2 million times. It's not known if those who downloaded it are planning to sue either Sly Stallone or the 26-year-old who allegedly uploaded it for wasting their time.