Richard Linklater Drops Out Of Directing The Incredible Mr. Limpet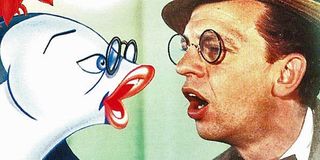 Making a big budget film is an incredible commitment for a director. First of all, you're dealing with a crew of thousands, not to mention the stress of millions of dollars. There's also the fact that a couple of years of your life are given to the movie - years spent in board rooms, on location, and at home pouring over pre-and-post-production. As a result, there is a serious importance placed on everyone being on the same page. If that's not the case, you've got to bail. And it seems like Richard Linklater has heard that loud and clear.
The Hollywood Reporter says that Richard Linklater is out of the remake of The Incredible Mr. Limpet. He had been attached to the project since 2011 , but at the very last minute it turned out to be scheduling that got in the way. One guess is that the movie, a half-animated, half-live action affair, required a lot more prep time than the studio was willing to give. Another is simply that Linklater lost his passion for the film, which deals with a beach bum (Zach Galifianakis) who opts to save the local fish population from a scheming industrialist (Jon Hamm). A killer cast had lined up for the film as well. Danny McBride, Sarah Silverman, Kevin Hart, Josh Gad and even Keegan-Michael Key were lined up to show up in the film.
The truth is probably that Richard Linklater's departure is a career decision. This was a major Warner Bros. project, and its likely Linklater was treating it as one of those "one for him" films that he could do with a studio to prove his viability - allowing him to continue making small films like Waking Life and Bernie. That said, he might not need the additional heat, as his latest, Boyhood , is attracting some of the best reviews of his career. The film's been playing in very small release thus far, but that hasn't stopped it from becoming the third highest-grossing movie from IFC Films in the studio's history. This is reminiscent of Darren Aronofsky signing onto The Wolverine, then bolting when Black Swan earned a spectacular $329 million, giving him the clout to tackle Noah.
Linklater now seems like he's got the fuel for his passion project. That's What I'm Talking About is Linklater's autobiographical movie about attending college in the '80s, one he's always pitched as a spiritual sequel to his breakout hit Dazed And Confused. Linklater apparently threw down the gauntlet in saying he wanted to shoot this project this fall, pushing development on The Incredible Mr. Limpet into 2015. Warner Bros. called his bluff, and now they are hastily seeking a replacement for the film. And sadly, "hastily" is not a word you want associated with a half-animated, half-live-action remake of a fifty year old film with a massive cast attached.
Your Daily Blend of Entertainment News
Thank you for signing up to CinemaBlend. You will receive a verification email shortly.
There was a problem. Please refresh the page and try again.